6 July 2006 Edition
Fógraí bháis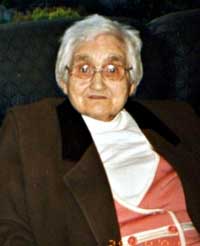 Kathleen Quigley, Inniskeen
It was with sadness that republicans from Counties Monaghan, Louth and Armagh and from further afield learned of the death of Kathleen Quigley. This was particularly the case with the people from Kathleen's own community of Inniskeen in South Monaghan.
Kathleen was a lifelong advocate of the Irish republican cause and spent many years giving her time and energies to the freedom struggle.
While much of her effort was behind the scenes Kathleen was well know throughout the border region as a seller of An Phoblacht for many years. During the 1981 Hunger Strike period Kathleen became a pivotal figure locally in the campaign in support of the prisoners and their demands.
Kathleen's contribution to the republican struggle was officially recognised in 1998 when she was presented with a County Monaghan Sinn Féin Honouree award by local Sinn Féin TD Caoimhghín Ó Caoláin.
The esteem in which Kathleen was held by republicans and the wider Inniskeen community was evident by the large crowd who attended her funeral on 13 June. Several hundred people followed the Tricolour draped coffin from Kathleen's family home to the Church of the Mother of Mercy. The cortège was led by piper, Paddy Martin. The coffin was flanked by a Sinn Féin guard of honour.
As Kathleen's remains were laid to rest a lament was played by Donal Duffy, a long time friend of Kathleen.
Kathleen Quigley was pre-deceased by her husband, Peter, in 1979 and by her son, Peter Jnr, in 1970.
She will be sadly missed by her sons, daughter, son-in-law, daughters-in-law, grandchildren, great grandchildren and her many friends. To each of them the republican community in South Monaghan extend our deepest sympathies.
I measc Laochra na hÉireann go raibh sí.