6 July 2006 Edition
Black & Tans were "no angels" - major concession by Loach critics!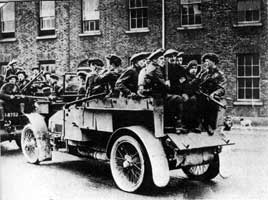 BY CHRISTOPHER BARRETT
Before it went on release, 'critics' who had not seen it, denounced Ken Loach's The Wind that Shakes the Barley. The London Times critic compared it to Nazi propaganda - ironic considering the role of ex-Black & Tans in reactionary and fascist politics in Britain. In the Daily Mail Ruth Dudley Edwards asked: "Why does Ken Loach loath his country so much?" - a question better addressed by Ruth to a mirror. Ruth also, in the manner of death penalty advocates discussing 'humane' methods of killing, informed us that the British Empire was "the most humane"...... ever, so there.
Facts, however, speak louder than words and the facts state clearly that Britain fought a brutal war of counter insurgency in Ireland. The Black & Tans and Auxiliaries were a byword for murder, torture and mayhem, including officially sanctioned reprisal attacks on civilians and property.
As these are matters of history, and perhaps sensing that Irish people are not as knowledgeable about it as they once were, ex-republican, ex-socialist, ex-Cork 'patriot', and now Sunday Independent columnist Eoghan Harris wrote: "By and large, the Black and Tans were no angels". Supporters of the infamous force were perhaps disappointed that Harris may not be counted an unwavering fan. But he did his best to rescue the force's reputation from the verdict of history and from Ken Loach's depiction.
Biscuit
If Ken Loach took the Palme d'Or in Cannes, then Harris takes the biscuit in Ireland.
Harris was commenting on the film for the second week in succession, but on this latter occasion took the precaution of having seen it, a novel approach.
Harris found, "The failure to allow a major British character a complex moral response to the war in Ireland is a major artistic and political flaw of this film." Possibly a Tan shedding a regretful tear or two, as he yanked out finger nails, burned houses, beat civilians and took pot shots at the populace, might have satisfied.
In fact the Tans did far worse than as depicted by Loach, who toned down their violence in the film. However, listeners to RTÉ's Live Line last week will have heard from relatives how the Tans engaged in gruesome and brutal mutilation.
So much for the effects of revisionist history teaching in our schools and colleges. And so much for The Irish Times, which recently carried the following observation: "It seems grossly unfair to exclusively blame the British for the terrible violence that ensued in Ireland" after 1918. There was a "need to challenge the Black and Tan stereotype" solemnised the author. And the same goes for the Nazis and the Gestapo respectively, presumably, who suffer from similar 'stereotypical' depiction.
Bad
However, back to Eoghan. The absence of such complex depiction was "bad history.... There were many decent British soldiers on duty - my grandfather Pat Harris was arrested by one such young officer - and there were even decent Black and Tans, as my Roscommon relatives remembered. [Scriptwriter Paul] Laverty should have stood up to Loach and demanded the right to include at least one conflicted British character."
Possibly a character portraying William Joyce would have sufficed. The future member of Sir Oswald Mosley's British Union of Fascists, and later infamous as 'Lord Haw Haw' in Nazi Germany, was a Black & Tan informer in Galway. He was pretty much 'conflicted' all right and might have fit the bill quit well.
Good
However, there were conflicting messages on The Wind that Shakes in the same Sunday Independent that carried the Harris critique.
Antonia Leslie interviewed actor Liam Cunningham, who played a former member of the socialist Irish Citizen Army. He said: "... for anyone to question the historical accuracy in the film - they need a good kicking!"
Whether Eoghan Harris submits to this criticism remains to be seen.
Cunningham went on:"I mean, you should see some of the stuff that they left out.
There was an order from a Major Grant who was in charge of Macroom at the time .... it said that every man they saw standing with his hands in his pockets had to be shot. That was the level of oppression at the time. I mean, they burnt Cork, for God's sake."
Pocket
Eoghan Harris might concede that shooting men for having their hands in their pockets was excessive, irrespective of its effect in encouraging proper deportment. But the supporter of Michael McDowell and the PDs would surely argue that burning the centre of Cork (plus Fermoy, Balbriggan and many Protestant-owned creameries, let us not forget), literally paved the way for the 'Celtic Tiger'.
Far from blaming the British, it is thanking them we should be doing. Quite possibly Eoghan Harris's grandfather, who Harris wheels out with regularity, should have thanked the Brit for having the decency to arrest him, instead of shooting him for having his hands in his pockets.
Criticising films on Ireland's conflict with Britain is a habit with Eoghan Harris. When Neil Jordan released Michael Collins, Harris was first in the queue to denounce it (perhaps sensing that his own much flagged, by Harris, Michael Collins script was doomed). However, as the film went on to break Irish box office records, perhaps Eoghan Harris serves as a reverse weather vein as to popular attitudes.
And was it Eoghan Harris that the late Breandan O hEithir, Irish language broadcaster and author, had in mind when he wrote the following paean of praise for 'conflicted' Crown force personnel? Is Harris "Yer Man"? Oh to be immortalised anonymously.
THE GENTLE BLACK AND TAN
Come all you staunch revisionists
And listen to my song,
It's short and it's unusual
And it won't detain you long.
It's all about a soldier
Who has carried history's can,
Who dodged Tom Barry and Dan Breen
The gentle Black and Tan.
'Twas the curse of unemployment
That drove him to our shore.
His jacket black and trousers tan
Like a badge of shame he wore.
"Subdue the rebel Irish
And shoot them when you can!"
"May God forgive me if I do,"
Prayed the gentle Black and Tan.
The burning of Cork city
Was indeed a mighty blaze.
The jewellers' shops were gutted
Not before the spoils were shared.
Gold and silver ornaments,
Rings and watches for each man,
"But I only struck the matches,"
Said the gentle Black and Tan.
Croke Park and Bloody Sunday
Was our hero's greatest test.
The spectators on the terraces
Nigh impossible to miss.
With salt tears his eyes were blinded
And down his cheeks they ran,
So he only shot Mick Hogan
The gentle Black and Tan.
So take heed you blinkered Nationalists
Fair warning take from me.
If you want to live in safety
And keep this land at sea.
Take heed of our three heroes
Murphy, Edwards and Yer Man,
Who will sing the fame and clear the name
Of the gentle Black and Tan.
By Breandan O hÉithir

An Phoblacht Magazine
AN PHOBLACHT MAGAZINE:
Don't miss your chance to get the second edition of the 2019 magazine, published to coincide with Easter Week
This special edition which focuses on Irish Unity, features articles by Pearse Doherty, Dr Thomas Paul and Martina Anderson.
Pearse sets out the argument for an United Ireland Economy whilst Pat Sheehan makes the case for a universally free all-island health service.
Other articles include, 'Ceist teanga in Éirinn Aontaithe', 'Getting to a new Ireland' and 'Ireland 1918-22: The people's revolution'.