6 July 2006 Edition
McGuinness meets Tamil Tigers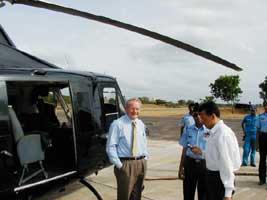 Sinn Féin chief negotiator Martin McGuinness met the senior political leadership of the Tamil Tigers last Monday in the rebel controlled north of Sri Lanka. McGuinness' visit had not been announced in advance of this meeting but has the support of the Sri Lanka President.
McGuinness had previously visited Sri Lanka in January and met the President, senior Ministers and also met with Tamil representatives. He had not been able to travel to the north to meet the LTTE directly at that time for logistical reasons. McGuinness therefore welcomed this week's opportunity to engage directly with the leadership of the Tamil Tigers.
During the meeting, McGuinness urged the LTTE leadership to re-engage in negotiations and the need for a credible peace process as an alternative to the escalating conflict.
"I asked both the government and the Tamil Tigers to take decisive initiatives to build the peace process. I am convinced that there is the will on both sides to find a resolution but that increasing conflict is making the peace efforts more and more difficult. My core message was that both sides need to act decisively to prevent the downward spiral into all out conflict. The reality is that, just as in Ireland, there can be no military victory and that the only alternative to endless conflict is dialogue, negotiations and accommodation.
Sinn Féin will continue to play any role that we can to assist the peace process in Sri Lanka", McGuinness said.