8 June 2006 Edition
Interview: Joan O'Connor, Sinn Féin NERF Organiser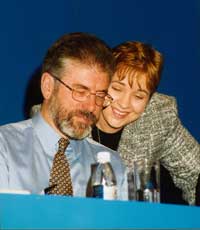 Always ready for the next challenge
In the second of a series of interviews with Sinn Féin activists, ELLA O'DWYER talks to Joan O'Connor, organiser of Sinn Féin's National Elected Representatives' Forum (NERF).
From Charleville, North Cork, Joan O'Connor was raised in a Fianna Fáil household, with her mother's side of the family actively involved in politics. "We would have been brought up very aware, not so much on the national question but on social and economic issues. Both my brother and myself were very active during the first divorce campaign and this caused a lot of consternation locally."
Although she did well at school she was involved in conflict with school authorities around issues of religion and politics- divorce, abortion and contraception. She was taken to one side by the nuns who complained about her views on these issues.
Recalling a day in 1981 when, at the age of 12, she and her parents drove through the Six Counties, she saw a black flag vigil in support of the Hunger Strikers, mainly consisting of women. It was a memory that stayed with her.
At university in the 1980s O'Connor became welfare officer for the Union of Students in Ireland at UCD. "That was at the time when injunctions were being taken against student unions around information on abortion".
The political extradition of republicans from the 26 Counties to the North and Britain was the issue through which she first became actively involved in republican politics, firstly as member of Students Against Repression and later Sinn Féin. A meeting at UCD addressed by Jim Clarke and Dermot Finucane, two Long Kesh escapees facing extradition at the time, had a particular effect.
O'Connor's CV is impressive, having shouldered heavy responsibilities within Sinn Féin at various stages over the years. She has headed up the party's Women's and International Departments, Chaired the 26 County Comhairle, has been Director of Elections, National Organiser and is currently working as head of the party's National Elected Representatives' Forum.
When she first became 26 County chairperson, there was an issue around gender especially amongst older people. "Who was I, where did I come from and what was my CV?". But her willingness to work and her clear ability dissolved any reservations.
Gender balance and Sinn Féin
While acknowledging the problems around gender balance, O'Connor says: "We have made huge progress and we can be very hard on ourselves. We're not perfect but then no party on the island of Ireland is perfect and having worked in the International Department, there are no perfect parties abroad either."
Now living in Kildare with her partner Dónal and three-year-old daughter Dearbhla, O'Connor stresses the importance of political discussion and debate on the issue and said many women in the party find gender tokenism distressing. "I am not a token. I am one of very many women within the Sinn Féin. We have never been tokens and never will be."
In relation to quotas with respect to elections to the Ard Comhairle she said she had reservations on the matter but was challenged to find an alternative. She agrees with the quota system but believes the policy should be time-framed.
She stresses Sinn Féin has been very supportive of her as a mother, both in terms of child minding and flexibility around meetings. She admits that for young mothers active in republican politics, financial security can be an issue but they do manage.
Asked which role excited her most she says: "I loved the period of the National Organiser role. We were in the run up to negotiations, the Good Friday Agreement. You were on the road the whole time, living on coffee. You were driven and passionate about it all."
She also identified the 2002 Leinster House election campaign in Kerry as another exciting period. As National Director of Elections and with a specific role in Kerry during the Martin Ferris election campaign, O'Connor saw first-hand the levels that the establishment would go to in order to slander Sinn Féin and its representatives. "You can't go into areas like Fermanagh/South Tyrone or Kerry without developing lasting friendships", she remarks.
Asked about her ambitions before she became involved in republican politics, Joan O'Connor says her passion lay in the area of psychology, a pursuit she might yet resurrect. But "that's in the medium to long-term, there are always more challenges, always more barriers for the party to overcome ."
An Phoblacht Magazine
AN PHOBLACHT MAGAZINE:
Don't miss your chance to get the second edition of the 2019 magazine, published to coincide with Easter Week
This special edition which focuses on Irish Unity, features articles by Pearse Doherty, Dr Thomas Paul and Martina Anderson.
Pearse sets out the argument for an United Ireland Economy whilst Pat Sheehan makes the case for a universally free all-island health service.
Other articles include, 'Ceist teanga in Éirinn Aontaithe', 'Getting to a new Ireland' and 'Ireland 1918-22: The people's revolution'.