1 June 2006 Edition
Rape law loophole - McDowell should have known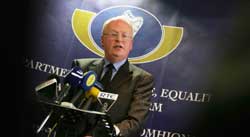 The 26-County Government is facing widespread anger after a Supreme Court ruling left open a loophole that allowed a man convicted of raping a 12-year-old girl to be freed.
The Supreme Court ruled last week that a 1935 law on statutory rape, under which any man who has sex with a girl under the age of 15 is automatically guilty of a crime, was unconstitutional.
A 41-year-old man known only as 'Mr A', who was jailed in 2004 after he admitted having sex with the underage girl, applied for release from prison following the ruling. The High Court judge who granted his release on Tuesday said the Supreme Court's ruling made his detention unlawful.
Mr A's release has caused uproar with many people demanding to know how Minister for Justice Michael McDowell could have allowed the situation develop.
On Tuesday Sinn Féin Justice spokesperson Aengus Ó Snodaigh TD called on the Government to abandon plans to adjourn the Dáil next week so that the legislation can be pushed through to deal with the situation. "As a result of last week's Supreme Court ruling, those parts of the law in relation to statutory rape are unconstitutional, a 41-year old sex offender, who pleaded guilty to having sex with a 12 - year old girl, and admitted he knew her real age, has just been set free with permission to sue the state.
"The Government is expected to fast-track legislation to close this loophole yet the Dáil will not be sitting next week as it takes a week long holiday over the June bank holiday. I am calling on the Government to abandon plans to adjourn the Dáil next week so that Justice Minister Michael McDowell can bring forward emergency legislation to close this loophole.
"There are obviously many issues to be thrashed out with regard to the age of consent and the implications of teenagers consenting to and embarking on sexual relationships but we must have this debate at the earliest possible opportunity so we can prevent anymore obvious sexual predators being released back into our communities."
On Wednesday Sinn Féin Dáil leader and spokesperson on Children's rights Caoimhghín Ó Caoláin TD called on the Government to contact the families of all the young victims of sex offenders that could possibly be released as a result of the Supreme Court judgement. Ó Caoláin said these families "should not have to hear about this from the media."
"There is deep anger that a self-confessed sex offender would walk free from jail because of a failure on the part of the Oireachtas. It is vital that legislation is introduced as quickly as possible. There is no reason why such legislation cannot be brought forward in the coming days", he said.
"Minister McDowell should have known about this problem and should have prepared the appropriate legislation to deal with it. His claim that neither he nor his Department were aware of the constitutional challenge is incredible', said Ó Caoláin.
He added that more considered work is required in relation to the broader issues of the age of consent and child protection but that this should not be used as an excuse for undue delay.
Taosieach Bertie Ahern has said he hopes to have new legislation drawn up by the weekend to close the loophole and would recall the Dáil to pass the legislation if required.
The 26-County Department of Justice said a legal team for the state would ask the Supreme Court on Wednesday morning to appeal the High Court's judgment on Mr A.