1 June 2006 Edition
Shooting: Attempt to stop emergence of collusion evidence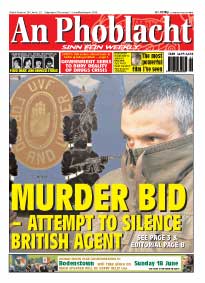 Murder bid aimed to silence British agent
Following the shooting of leading loyalist and suspected British agent Mark Haddock, Sinn Féin spokesperson on Justice issues Gerry Kelly said that many would be suspicious of the motivation behind the shooting given the fact that the Six County Ombudsman's inquiry into Haddock, the Mount Vernon UVF and their collusion with the Special Branch was due to be published next month.
"Mark Haddock was for many years a leading figure in the UVF in Mount Vernon, a grouping associated with many sectarian killings. It is also widely accepted that Haddock and others within the UVF in Mount Vernon were also working for the Special Branch for many years throughout this entire period", Kelly said on Tuesday evening.
"An inquiry into collusion between the Mount Vernon UVF and the Special Branch is currently being conducted by the Police Ombudsman and is due to be published next month. Mark Haddock is at the centre of this inquiry. Given this, many people will be rightly suspicious of both the timing and the motivation behind this shooting", he said.
"There is a clear pattern of former British Agents being killed in circumstances like this just as allegations of collusion or other activities are about to be exposed, as was the case of those involved in the murder of Pat Finucane", said Kelly.
Gerry Kelly later said Tuesday's murder bid again raised serious questions about who actually controlled the loyalist death squads. He said it was widely accepted that Haddock was controlled and directed by the Special Branch throughout the period in which he was engaged in killings with the full knowledge of his handlers.
"The attempt to kill Haddock follows a long standing pattern. Billy Stobie, another Special Branch agent and a man involved in the murder of Pat Finucane died in similar circumstances", he said.
"Many will believe that last night's attempt to murder Mark Haddock was an attempt to silence him and help prevent further allegations of widespread and systematic collusion between the Special Branch and the loyalist death squads emerging. Those members of the Special Branch who handled Mark Haddock would have much to gain from his death. This reality raises serious questions about who controls these gangs and who controlled the loyalist gang involved in yesterday evening's murder bid", Kelly said.
Last week in a BBC Spotlight television documentary, a former RUC officer revealed how RUC agents within the UVF in Belfast's Mount Vernon area had carried out sectarian murders and were being protected by Special Branch.
The BBC revelations by former RUC member Trevor McIlwrath, coupled with the release and relocation of loyalist Ken Barett, the killer of Belfast soliocitor Pat Finucane, drew further attention to made a clear agenda not just to protect unionist paramilitaries working for the British State but more significantly those handling them in the ranks of the Special Branch and MI5.
Human rights report
In April, An Phoblacht reported that a former north Belfast UVF leader, now widely reported as being Mark Haddock, was involved in more than a dozen murders while he was an agent for RUC Special Branch and that a report due to be completed by Ombudsman Nuala O'Loan was set to expose the role of Special Branch in these murders.
The probe followed a detailed report, Getting Away With Murder, by human rights group British Irish Rights Watch (BIRW). Information contained in the report has been described as "compelling".
The serious nature of the evidence collated by BIRW alarmed human rights groups so much that as well as sending a report to the Ombudsman, the group also sent copies to the so-called Independent Monitoring Commission, British Secretary of State Peter Hain, US Special Envoy Mitchell Reiss and the US Congress.
Former RUC detective Johnston Brown, who ran the UVF agent prior to being ordered to hand him over to Special Branch told the media, "of course there were elements within Special Branch who knew what he was doing but they chose to ignore it."
Victims
The UVF victims include 27-year-old Sharon McKenna a Catholic taxi driver who was shot dead by the UVF while visiting a Protestant pensioner in North Belfast in 1993; two Catholic workmen from County Armagh, Gary Convie and Eamon Fox, shot dead while working on a building site in Tigers Bay in 1994; Thomas Sheppard, shot dead in 1996; Rev David Templeton who died following a severe beating in March 1997; Billy Harbinson beaten to death in May 1997; Raymond McCord jnr beaten to death in November 1997; and David Greer and Tommy English both shot dead in October 2000.
Last December, after it emerged that the UVF killer of Sean McParland in Skegoniel 1994 was a longstanding Special Branch agent, Sinn Féin's Gerry Kelly called on the Six County Police Ombudsman's office to investigate allegations of collusion between PSNI Special Branch and unionist paramilitaries in Mount Vernon.
Two week's later it emerged that the man who drove away the UVF killers of Sharon McKenna was protected from arrest by his Special Branch handlers.
McKenna's murderer was also a Special Branch informant, involved in over a dozen killings. His Special Branch handlers repeatedly blocked RUC attempts to arrest him in the weeks following the murder.
A source with intimate knowledge of the case said if the RUC had questioned him, the killing would already be solved. "The Special Branch protected him from arrest because they knew he would crack under questioning."
The Branchman running the informer retired two years ago.
The McKenna family have campaigned to have the killers brought to trial.
In February, Sinn Féin President Gerry Adams held talks with Raymond McCord senior. Adams pledged to raise the case with the British Prime Minister Tony Blair and Taoiseach Bertie Ahern. "I think the McCord family have the right to the truth and that is essentially what Raymond McCord is looking for - the truth about the murder of his son. I think there is huge evidence to suggest that British agents were involved in that killing", he said.