25 May 2006 Edition
Death of Richard McIlKenny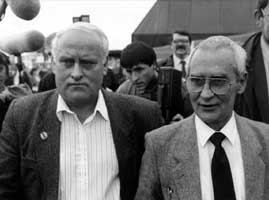 Richard McIlkenny, one of six Irishmen wrongly convicted of the 1974 Birmingham pub bombings died on Sunday, 21 May in a Dublin hospital.
72-year-old McIlkenny, was freed in 1991 after 16 years imprisonment following a long campaign to expose Britain's miscarriages of justice against Irish people living in England.
Originally from North Belfast, McIlkenny worked in towns in the North of England but lived in Birmingham at the time of his arrest. He was detained along with friends by Special Branch detectives investigating the Birmingham pub bombings.
McIlkenny was interrogated and beaten by British police for three days until he signed a false confession admitting the bombings.
He appeared in court along with Paddy Hill, Billy Power, Gerard Hunter, Hugh Callaghan and Johnny Walker, and was remanded in custody.
While in prison all six men were beaten, and in August 1975 the Birmingham Six were sentenced to life on the basis of false confessions.
They were denied leave to appeal and forced to wait until 1987, when, in the light of new evidence, their case was referred to the Court of Appeal before being rejected.
Public protests in Ireland and England kept the case in the spotlight until August 1990 when forensic investigations showed their confessions had been tampered with by the British police.
The following year, in March 1991, their convictions were quashed and they were released after 16 years in jail.
Offering his condolences to his family Sinn Féin's North Belfast MLA Gerry Kelly said Richard and his family stood up against British injustice and were proved right in the end.