25 May 2006 Edition
Fifth Column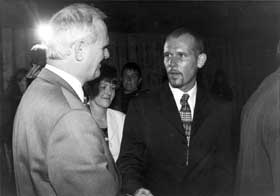 DUP gets ratty over UVF
Much sniping from the DUP about the UUP's welcoming into their Assembly members' group of David Ervine, the political voice of the UVF.
DUP leader Ian Paisley thundered that the UUP were "allying" themselves with terrorism.
Papa Doc's second-in-command, Peter Robinson, pronounced that the UVF is active "in criminal and paramilitary areas".
Peter Perfect added: "That is a very clear issue: one that we see not as a pragmatic matter but as a matter of principle."
Not the sort of principle that Papa and Peter saw so clearly when their very dear colleague, the DUP MP Reverend Willie McCrea, stood on a platform in Portadown with LVF gangster and sectarian killer Billy Wright during his feud with the UVF after they threw him out because 'King Rat' was too big a bigot even for them.
Orange aides squashed
British Direct ruler Peter Hain is appealing last Friday's Belfast High Court ruling that he acted unlawfully in appointing two leading Orangemen to the supposedly non-partisan Parades Commission to adjudicate on controversial marches by... the Orange Order.
Hain's decision would have given the Orange Order two out of seven places on the Parades Commission.
Mr Hain, however, is not expected to also appeal for the inclusion of British National Party or Ku Klux Klan leaders on Britain's Commission for Racial Equality.
RUC record
The RUC has set another record in its dark history in the courts. Last Friday, the civil action being taken by more than 5,000 RUC and PSNI Peelers for trauma caused during 30 years of conflict (sparked by loyalist pogroms aided and abetted by the B Specials of the RUC) became the longest-running civil case ever in the Six Counties.
On Friday, the case entered its 86th day, surpassing the previous record of 85 days in 1989/1990 in a case about the destruction of oyster beds in Strangford Lough.
Nicholas Hanna QC told Judge Coghlin on Friday: "You may be interested to know that, as of today, this case has become the longest-running case in Northern Ireland. I don't know if that pleases you or not."
The judge sighed: "It certainly ages me."
The RUC have put years on all of us.
World Cup Willies
Who should we support in the World Cup?
This column isn't anti-English. In fact, we have so many connections with England that- stone the crows, strike a light, Gawd blimey, guv'nor, you wouldn't Adam and Eve it - we're just short of being made the Pearly Kings and Queens of Croke Park and given a big part in EastEnders as Dot Cotton's Irish cousins.
It's not England per sé, we hate - it's just their jingoistic English media: The Sun, The Star, The Daily Express and The Daily Mail. They think they should win everything simply because they're English. And they can't stand being beaten at anything by Johnny Foreigner. They don't like it up 'em, as Corporal Jones from Dad's Army would say. So we'll be cheering for someone, but it won't be In-ger-land.
But who should we support?
The Sunday Tribune did a vox-pop of celebrities to find out.
Taoiseach Bertie Ahern will be cheering for Argentina, which is certain to drive The Sun and Margaret Thatcher over the edge.
GAA legend Páidi Ó Sé and Enda Kenny fan Pat Rabbitte both want England to do well. Páidi because half of Ireland support English teams (at least there's a certain logic there). Rabbitte says: "I'll be shouting for England."
John O'Shea of the GOAL aid agency reckons, "It makes sense that we should want our closest neighbours to do well," even though that's a sentiment usually lost on the Welsh and the Scots.
Sinn Féin TD Seán 'Jack' Crowe thinks a South American side will win it and doesn't think England will be bringing the World Cup back to Blighty. "That's not an anti-English thing. I just don't think they have the players to do well."
So Jack backs Poland.
And so do we.
Nadchodz, Polska!