25 May 2006 Edition
Drugs crisis back on political agenda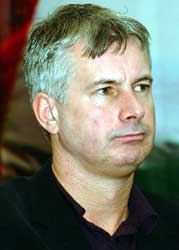 Sinn Féin this week put a comprehensive motion on drug misuse before the Dáil. Spokesperson on Community Affairs Seán Crowe TD said it was the first time such a wide-ranging motion on this issue has come before the Dáil and the party used its Private Members Time to debate the motion on Tuesday and Wednesday.
"If endorsed with cross-party support and acted upon this motion will provide the basis for seriously tackling the growing problem of drug misuse that affects all sectors of Irish society" stated Seán Crowe.
The motion deals with all aspects of drug misuse - from the failure of the Health Service Executive to provide harm reduction facilities throughout the State to the widespread use of cocaine.
"We believe the response to the crisis has to be a multifaceted approach. We believe it should be community led. It needs to involve a different approach to policing including the re-targeting of policing resources. It has to meet the needs of families in those communities most affected in terms of services and finance. And it has to involve a much wider provision of services to addicts - services that are more flexible and available. The elimination of waiting lists for treatment must be a priority" said Seán Crowe.
Sinn Féin Dáil motion on drug abuse (edited version)
That the Dáil calls on the Government to -
• Ensure the relentless pursuit of major drug traffickers and ring-fence funds seized from them for community development in those neighbourhoods worst affected by the drugs scourge;
• Provide for all appropriate sanctions for those involved in the drug trade, including prison sentences for drug barons which reflect the devastating impact of their activities on individuals, families and communities, as well as increased use of alternatives to prison for certain drug-related crimes where this would be more appropriate;
• Increase the resources available to the Garda Síochána National Drugs Unit, Local Drugs Units and Juvenile Liaison Officers;
• Ensure a genuine partnership between the Garda Síochána and local communities, given that the Garda Síochána Act 2005 failed to introduce adequate structures for accountability and genuine community policing;
• Introduce local accountability structures at district level such as Community Policing Partnerships or, at least, to roll out the Joint Policing Committees and Community Policing Fora provided for by the Garda Síochána Act 2005 across the 26 Counties as a matter of urgency;
• Reverse the current approach to drug abuse in prisons to ensure that prisoners have access to health care and prevention policies and services including harm reduction strategies equivalent to those available in the wider community;
• Immediately formulate, resource and implement an Action Plan to combat spiralling cocaine use;
• Dedicate adequate funding to significantly expand the availability of drug treatment and to eliminate waiting lists for treatment;
• Encourage the Health Service Executive to return to real partnership with community and voluntary groups in addressing problematic drug use;
• Expand the spectrum of services available so that all drug users who want to avail of treatment and other services can do so;
• Ensure that drug users also have access to the other counselling and medical services they need, without discrimination;
• Recognise the right of all grandparents looking after the children of their addict sons and daughters to be fully supported in line with provision for foster parents and accordingly increase the Orphan/Guardian Allowance;
• Ensure the take-up of widespread and well-resourced education programmes and campaigns for children and parents against the misuse of drugs, in school, at home and in the community;
• Seriously address poverty and inequality in this State, including educational disadvantage, and accordingly provide Early Start Programmes in all RAPID areas;
• Work on an all-Ireland basis to ensure the application of the strategic objectives of the National Drugs Strategy to the island as a whole;
• Appoint a Minister of State with sole responsibility for drugs issues.
More focussed approach needed to tackle drugs problem
As Sinn Féin puts down a motion on Drugs in Leinster House this week ARAN FOLEY interviews Teresa Weafer of the Ringsend and District response to Drugs about the continuing drugs crisis within the community.
Teresa Weafer has been involved with the Ringsend and District response to Drugs since 1995. She has noticed a change in the patterns of drug use and says that although heroin is still a significant problem there has been a vast increase in the use of cocaine. This has presented a new set of problems. "With heroin you at least have methadone as a means to wean people off the drug. No such solution is available with cocaine where the emphasis is on therapy and self help motivation", she said. The vast majority of drug users Weafer deals with are poly drug abusers i.e. they use more than one drug. There are worrying cases of crack cocaine starting to emerge but as yet it is not a major problem.
A perennial problem though is the lack of resources. Teresa's project runs a day course with FÁS. They only have one counsellor who can deal with eleven people at a time. At the moment there are 75 people on the waiting list. She says this is just one of many examples of how lack of resources is hindering the project's work and she says that the Health Services Executive (HSE) needs to expand the provision of drug services.
From the profile of the addicts Weafer has worked with she says there is a definite link between social disadvantage and drug use although the problem is now spreading it's tentacles affecting local communities in a variety of ways. "First there is the obvious problem of the addicts themselves but there is the whole area of their families as well, Weafer says. She cites parents of addicts as an example. Very often the parents take in a grandchild as their drug-addicted sons or daughters are incapable of looking after the child. They often find it hard to get support. Teresa believes there should be a specific payment to support people who find themselves in this situation. Her organisation is heavily involved in counselling families of addicts.
Weafer firmly advocates community policing initiatives as an effective tool in the fight against the drugs problem. The Gardaí also need more resources, she said.
In relation to the problem of drug abuse in prison Weafer said she supported a needle exchange programme which is something she never thought she would hear herself say as the approach of her own project is one of abstinence. However she says that the prisons have become a breeding ground for the spread of AIDS which then spreads into the wider drug user community when the prisoner is released.
In relation to an overall approach to the crisis Weafer believes it is a matter of political will. "At the moment the Government only responds when it feels under pressure on the issue. There needs to be a more focused approach, one which is consistent, properly resourced and holistic. Communities and the various organisations involved, be it Gardaí or the HSE, have to work together to solve this problem."
The Ringsend and District response to Drugs centre provides an invaluable service. They help not just the addicts but the wider spectrum of people affected by addiction such as the families but Weafer says the centre could really use extra resources. Weafer also says a huge push in education around the issue is urgently required.