25 May 2006 Edition
Peaceful end to Afghani hunger strike welcomed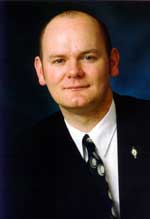 The hunger strike in Dublin's St Patrick's Cathedral by Afghani asylum seekers ended at the weekend. That it ended without the tragic loss of life has been welcomed by human rights campaigners, anti-racist groups and political parties.
Local Sinn Féin representative, Councillor Daithí Doolan (pictured) said he was very relieved at the situation. "I had visited and spoken to the hunger strikers, their supporters and the church clergy on several occasions over the past number of days. I must congratulate all those who attempted to negotiate a peaceful and dignified conclusion to this difficult situation. I particularly commend the clergy in St Patrick's Cathedral for allowing the men to seek sanctuary there since Sunday evening last", he said.
Doolan said it was now vital to ensure that nobody seeking asylum ever feels they have to take such measures to have their cases highlighted. Asylum seekers must feel that the process is "just, humane and transparent", he added,
Doolan also called on the Justice Minister Michael McDowell, "to immediately set about reviewing the men's cases, taking into consideration the escalation in violence in Afghanistan. If there is any threat to these men in Afghanistan then none should be sent back", he said.