25 May 2006 Edition
Remembering McElwain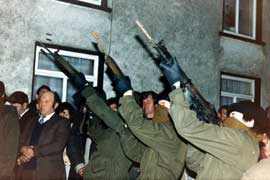 DVD release: Life and death of an IRA activist
• IRA firing a salute over the coffin of Óglach Séamus McElwain
Film: Documented Life of a Revolutionary Freedom Fighter: Óglach Séamus McElwain
Price €20/£15
Although firmly rooted in the Irish historical experience, the Republican Movement during the recent phase of conflict was little concerned with leaving a record for future generations. In the cut and thrust of raids, arrests, long imprisonment and sudden death, countless documents were destroyed and a wealth of oral tradition went to the grave with stalwarts of the unbroken tradition.
A few individuals - including Tom Hartley, Aengus Ó Snodaigh and myself, did as much as we could, depositing material in archives north and south of the border, in particular the National Library in Dublin and the Linenhall in Belfast.
But apart from a handful of archives and the pages of An Phoblacht and Republican News, where can the future researcher go to gain an alternative understanding of the conflict and look beyond the sheer weight of anti-republican sources?
The imbalance in the historical archive needs to be addressed and for this reason alone the recent launch of a documentary film commemorating the life and death of the iconic IRA activist, Séamus McElwain, has to be heartily welcomed.
The expression 'a legend in his own time' is often abused, but in the case of McElwain it is a fact that from a very early age he had attained legendary status amongst the republican community of the border area from Leitrim through Cavan to his native Monaghan and, of course, in neighbouring Fermanagh where he led a relentless assault on the British military presence.
This film attempts to provide an understanding of a republican activist who at the time of his death, aged 26, was already a veteran of struggle, having joined the IRA at 16. Through the recollections of former comrades - including his fiancée - we are given an invaluable account of an extraordinary career in the pursuit of Irish freedom.
But this film isn't content with merely relating the story of McElwain's life; rather it explores his character in some depth, providing us with an understanding of his thought processes as well as his actions.
For those who knew him, McElwain was the revolution personified. Coming from a staunchly republican background and a north Monaghan community deeply affected by the consequences of partition, he had an innate sense of what needed to be done. But his thinking wasn't static. Eddie Collins, an IRA activist from Cork who stayed with the McElwains in the early '70s recalls the inquiring mind of the youngster. Brendan 'Bik' McFarlane remembers that he spent his period in prison reading, while Seán Lynch noted a transformation in McElwain from his imprisonment in 1981 to his escape a mere 18 months later.
And like any true revolutionary, McElwain wanted to know what his enemies were thinking. I still have his copy of General Frank Kitson's classic Low intensity Operations, the basic manual of British military strategy throughout the conflict. Séamus asked his sister Maura to have the smudged book hardbound, so that it could be sent to him in prison, but along with Bik and a couple of score other POWs, he escaped from the prison before the binding was completed!
Once on the outside, he threw himself back into the armed struggle as O/C South Fermanagh. Every now and then he would surface for a spell of rest and recreation, but before dawn he would be gone, back to the fields and safe houses which were his home through the latter years of his life.
The film includes a detailed recollection of the pivotal role played by McElwain in the successful escape from the H-Blocks and a graphic account of his last moments, following his wounding, capture and execution by an undercover SAS unit near Roslea on 26 April 1986. For these insights alone, it is a must-buy for all students of Irish republican history and it is a project that must surely be replicated elsewhere.
It was on a Saturday morning that news of McElwain's death spread like wildfire through the border counties and, as Brian McCaffrey remarks, it was one of those times in our lives when we all remember where we were and what we were doing. Those of us from that part of the country will never forget the raw emotion of those few days as republicans mourned with the McElwain family for an exceptional and charismatic leader who also happened to be a genuinely lovely young man.
That sense of connection and of genuine respect and affection was there again in Knockatallon last month when up to 500 people turned up for the launch of this documentary film, marking the 20th anniversary of McElwain's death.
The film has its shortcomings: it would have benefited from some tighter editing and it suffers from uneven sound quality in places. But these are minor quibbles and Molloy Productions of Pomeroy are to be congratulated for delivering the film in what I understand was an impossibly short timescale.
Some will speculate on how this revolutionary would have reacted to the development of republicanism in more recent years. Such speculation is futile, but having interviewed him at length shortly before his death, I am certain that McElwain would have been heartbroken at any hint of republican disunity. I still have the statement he supplied as O/C to the Fermanagh Easter commemoration held in Swanlinbar in 1985. Thanking those who provided back-up to Óglaigh na hÉireann, he stressed that the war "cannot be fought or won by the IRA in isolation" and continued:
"We call on all republicans to unite, to put petty bickering and old grudges behind them and we emphasise that no-one has the right to carry on campaigns of vilification or division ... We call on all who class themselves as republicans to vote for the candidates put forward by the Republican Movement - that is to vote solidly for the Sinn Féin candidates in every area and not to be misled by smooth-talking politicians who claim to be republicans and make loud noises when it suits, but who resist organised republicanism and pursue an independent course in furthering simply their own career."
BY BRIAN Mac DOMHNAILL