25 May 2006 Edition
Stakes high as DUP seek to subvert Agreement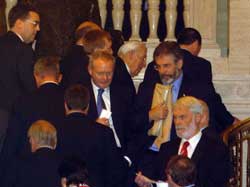 Hain Assembly: Paisley rejects power-sharing and equality
Stakes high as DUP seek to subvert Agreement
Following Ian Paisley's rejection of a Sinn Féin nomination to serve as First Minister in a new power-sharing Six County Executive Sinn Féin Chief Negotiator MARTIN McGUINNESS MP says the move was necessary to test the DUP and expose its rejection of equality or force them to adopt a different view.
As we emerge from the piece of political theatre witnessed in Stormont this week people are probably not altogether surprised that the first effort to elect a new Executive floundered on the rock of negative, rejectionist unionism. Others may be confused by the decision to nominate Ian Paisley in the first place. The decision to nominate the DUP leader was the only mechanism which could have been used to test the DUP and either expose their continuing rejection of equality or indeed try and force the DUP to adopt a different view. It was also intended to send out a positive signal to broad civic and political unionism. This was not a political stunt. It was a serious effort to advance this process.
Given the strategy embarked upon by the two governments in playing this long until November there was very little incentive for Ian Paisley to end 40 years of saying No' and to recognise that the Good Friday Agreement has changed the political landscape on this island forever.
Certain realities remain for Mr Paisley and the DUP to grasp. If they are ever going to exercise power it will be along with Sinn Féin and it will be in the context of the all-Ireland architecture of the Agreement with all of the safeguards, checks and balances which that contains. There is no possibility of any brand of unionism exercising majority rule again in the North. That much is certain. Yet we must recognise that there remain significant elements of political unionism who still aspire to the days of discrimination, inequality and bigotry.
Sinn Féin agreed to enter this Peter Hain Assembly with one objective in mind - the election of a First and Deputy First Minister which would then allow the D'hondt process to be triggered and an Executive elected. That remains our sole focus. Although the two governments have declared that the primary purpose of this new Assembly is the appointment of the Executive, the legislation under which it was set up authorises the British Secretary of State to allow other business to be conducted. The Assembly's rules have also been changed.
Sinn Féin will not participate in debates on issues over which Assembly members have no power or control. Those parties who have decided to go down that road are engaging in a political charade to protect salaries and are either deliberately or unintentionally providing political succour and cover for the DUP agenda of creating a talking shop institution minus a fully functioning Executive. I believe that this is a hugely dangerous strategy which must be confronted.
Therefore the next few months are pivotal. For our part, Republicans have demonstrated time and time again our desire and determination to make the peace process work. We want to work in partnership with unionists to create a better place, a shared space for all our people. We need to do this to eradicate the sort of deep rooted bigotry and sectarianism which saw young Michael McIlveen beaten to death for no other reason than he was a Catholic. He is the third young catholic to die in similar attacks since the last Assembly election when Ian Paisley became the leader of unionism.
Gerry Adams has already stated that he believes that the current phase of political talks will decide the future of the Good Friday Agreement - the stakes are that high. I share this analysis of the current situation.
Understandably there is a lot of scepticism and cynicism and Monday's antics both inside and outside the Assembly chamber only add to that feeling. Despite this I detect an undercurrent of optimism that progress can be made.
Last year's significant moves by republicans led many to hope that real progress can be made. In this context a big effort has to be made to keep the two governments on the right lines. Given recent pandering to the DUP by both governments there is a need for vigilance in the time ahead.
Sinn Féin has set out clear guidelines for our participation in this Assembly. We are not prepared to allow this process to become distracted or to end up going down political cul-de-sacs as the two governments search around for mechanisms to give the DUP more time to face political realities which they should have had to face long before now.
So can we succeed in the task we have set ourselves in the coming weeks? At this stage I think it is too early to say. We remain focused on the goal of seeing the political institutions back up and running but we are realistic enough to know that this is by no means guaranteed. The DUP want to enter an Executive on their own terms. For this to happen the two governments would have to abandon the Good Friday Agreement. This is unacceptable to Sinn Féin and I believe to the vast majority of people on the island who voted for the Agreement in such numbers in 1998
The objective therefore has to be to get Ian Paisley into the power sharing arrangements on the terms contained in the Agreement. Until this is achieved the Assembly should have no other role. Sinn Féin will not permit a descent into a shadow forum with shadow committees.
If it becomes clear in the coming weeks that Ian Paisley is not prepared to come on board then the two governments have big decisions to make. An Assembly without power is pointless and should be wound up. The Assembly members' salaries and allowances should be stopped. The two governments then must press ahead with all of the other aspects of the Agreement minus the northern Assembly and increase substantially the all-Ireland elements.
The Irish government need also now to move speedily on implementing their outstanding commitments particularly on the issue of northern representation in the Oireachtas. Opposition from Labour and Fine Gael to this logical step disadvantages and discriminates against Irish citizens in the north, is motivated by self interest, and must be challenged on the doorsteps throughout the 26 counties.
So the coming weeks are a challenging period for all of us. We need to maintain a focus on the political objectives we have set ourselves in the short term. We will all know very quickly what future direction this process will take.