25 May 2006 Edition
Mo bhealach fhéin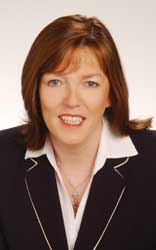 Interview: Gráinne Mhic Ghéidigh
In the first of a series of interviews with Sinn Féin activists, ELLA O'DWYER talks to Gráinne Mhic Ghéidigh, Sinn Féin's first representative on Udarás na Gaeltachta.
Born in the Donegal Gaeltacht area of Rann na Feirsde, Gráinne Mhic Ghéidigh is Sinn Féin's first representative on Udarás na Gaeltachta. Údarás combines an economic development role of creating sustainable jobs and attracting investment to the Gaeltacht regions with community, cultural and language-development activities, working in partnership with local communities and organisations.
Asked how she initially became involved in republicanism, Mhic Ghéidigh says: "It was never a decision, it was partly the way we were brought up". Her parents often talked of 1916. "Just by looking at our history, it made common sense, we would and we should be republicans. We thought everyone should be republican."
Now in her mid 40s, Gráinne Mhic Ghéidigh was 23 during the 1981 Hunger Strike. While the events of the 1916 seemed like history, the events of the 1980s "were happening now and that's what clinched it".
Describing her parents, Gráinne said: "My father was the most just and fair minded person I ever met." Though quiet and gentle, her mother instilled in her daughter the importance of "standing up for yourself" and of opposing injustice. She witnessed her mother marching on behalf of the Hunger Strikers in 1981.
Mhic Ghéidigh left school at 18 and went to work in a local factory and recalls the time when a lot of people from Derry and Belfast came to Rann na Feirsde to learn Irish. It was at the local Céili that she met like-minded young people who later ended up in prison. "These were young people who came and had the craic with us". But with internment and the war: "They weren't to come anymore. Their lives had taken a different direction".
She has an awareness of the vital importance of the national heritage as epitomised in the island communities off the north west of Donegal: "Therein lies a lot of our heritage, the essence of who we really are."
Mhic Ghéidigh is an all-rounder - married to Edward and with four children, a Sinn Féin activist and member of the Údarás, she is also pursuing a degree in Irish studies and Literature. Asked about her studies, she mentions Máirtín O'Cadhain's, Cré na Cille. Another work she admires is Mo Bhealach Fhein, in English- My Own way, by Seosamh Mac Grianna, an author from her own home place.
It's easy to see how the latter work would appeal to Mhic Ghéidigh who arrived at her political stance through her own interpretation of what was going on around her: "I didn't even like the word politics, but then I came to understand that politics meant helping others, the neighbours, the children etc".
Mhic Ghéidigh has a deep understanding of Irish history and culture. Asked about the need to develop the party in places like the islands of Tory and Oranmore, she says: "It's common sense. Republicanism is about representing the cause of the marginalised. The people of Tory and Oranmore don't get half enough and they have to be twice as good in order to get anything", a comment often made about women's participation in politics. In relation to the obstacles facing women in politics, Mhic Ghéidigh calls for a more "family friendly" context.
Gráinne Mhic Ghéidigh's interest in community development, along with her deep understanding of Irish history and culture, made her an ideal candidate for election to Udarás na Gaeltachta, the mission statement of which is "Sustaining Communities, Maintaining the Language." A strong community worker and fluent Irish speaker, on 3 April 2005, she became the first Sinn Féin representative for the Udarás in the region and the first woman ever to be elected to the organisation for Donegal. She describes her election as "a great honour".