25 May 2006 Edition
Collusion: Finucane killer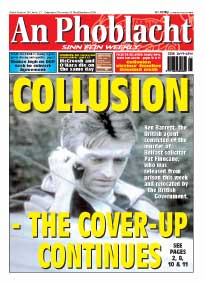 British state protects murderers
The release from prison last Tuesday of Ken Barrett, the British agent convicted of the murder of Belfast solicitor Pat Finucane in 1989, has been followed by further revelations from former RUC members concerning collusion with unionist paramilitaries and has exposed the fact that sectarian murderers are being protected by the British state.
Barrett was released from Maghaberry Prison less than three years after being sentenced to life imprisonment in September 2004. It is believed Barrett was immediately whisked away by the British Ministry of Defence to a secret hideout outside Ireland and it is alleged that the killer has been given a generous relocation package in return for his silence on the extent of state collusion.
Sinn Féin MLA Alex Maskey said there was every reason to believe that Barret had been given the same generous treatment as fellow British agent Brian Nelson, the UDA intelligence officer who who supplied the information to Barrett that he used to murder Pat Finucane.
RUC Special Branch informer and UDA gunman Barrett was given a life sentence, and ordered to serve 22 years, after admitting his role in Finucane's murder and told he didn't qualify for early release under the Good Friday Agreement because he was jailed in England.
However, in February 2005 he was transferred to Maghaberry Prison, County Antrim and it emerged recently that the Life Sentence Review Commission was conducting a review to decide if he should be released. It is thought sensitive intelligence information played a significant part of the evidence examined by the Review Board.
The Finucane family have consistently called for a public inquiry into Pat's killing and are opposed to the British government's decision to hold any inquiry under the terms of the controversial 2005 Inquiries Act which gives the British government control over what evidence may be disclosed.
The US House of Representatives has called on the British government to reconsider its position on an inquiry into the Finucane killing. It voted by 390 to five votes to pass legislation demanding a "full, independent public inquiry", into the Finucane killing.
Barrett's release was followed on Tuesday evening by further revelations in a BBC Spotlight television documentary in which a former RUC officer revealed how RUC agents within the UVF in Belfast's Mount Vernon area had carried out sectarian murders and were being protected by Special Branch.
Sinn Féin Justice Spokesperson Gerry Kelly has said that Barrett's release and the BBC revelations by former RUC member Trevor McIlwrath concerning the involvement of Special Branch Agents in the murder of innocent Catholics with the full knowledge and support of their handlers made it increasingly clear that "there is an agenda at work not just to protect those members of unionist paramilitaries who were working for the British State but more significantly those who were handling them in the ranks of the Special Branch and MI5".
Ó Caoláin calls for summit on collusion
Meanwhile on Wednesday Sinn Féin's Dáil leader, Caoimhghín Ó Caoláin TD called on Taoiseach Bertie Ahern to organise a Summit with the British Prime Minister, Tony Blair, with the sole purpose of getting to the truth about British collusion with unionist paramilitaries. The Cavan/Monaghan TD made his comments during Leaders Questions in the Dáil, which coincided with the 15th anniversary of the murder of Donegal Councillor, Eddie Fullerton by loyalists, and a day after Ken Barrett's release from prison, the 12th anniversary of the shooting dead of Martin Doherty as he courageously prevented the bombing of the Widow Scallan's pub. Last week marked the 32nd anniversary of the Dublin/Monaghan bombings in which 33 people died. Ó Caoláin said that it was now widely accepted that the perpetrators were acting as agents of the British armed forces.
Ó Caoláin said collusion was ongoing. "The British are protecting their agents. Isn't it clear that your efforts to move Tony Blair have so far failed and you need to step up those efforts? An item on the agenda is not enough. This must be internationalised. Will you now demand a special summit meeting with the British Prime Minister solely focused on the issue of collusion and use that opportunity to demand before the world's media that this inquiry be established? Will you place this issue on the EU and UN agenda?, Ó Caoláin asked.
He also called on the Taoiseach to establish full public inquiries into the Dublin/Monaghan bombings and the murder of Eddie Fullerton.
Focus on Collusion: County Derry, South East Antrim
Collusion victims' families demand truth
BY LAURA FRIEL
The accounts are remarkably similar. Intense crown force's activity followed by total withdrawal. Hours of helicopters buzzing overhead, days of foot patrols and roadblocks, then silence. "Everyone knew someone was going to be killed, silence was almost always a prelude to terror," said a relative of an East Derry collusion victim Tommy Donaghy.
Stretching from Derry City, along the North coast through County Derry to North Antrim is a single UDA brigade area. It includes Derry City, Coleraine and villages such as Castlerock and Rasharkin. It also borders County Donegal.
The territory is as wide and diverse - urban and rural, coastal and land bound. One unifying aspect is that local communities were all subject to the attentions of one organised unionist paramilitary group and state forces who colluded in its reign of terror.
Earlier this year one of the North's most notorious sectarian mass murderers, Torrens Knight was exposed as an RUC Special Branch agent. In October 1993 Knight was one of a number of masked gunmen responsible for the Greysteel massacre.
Now families of other victims in the area believe members of the same gang were responsible for other murders. They believe collusion was organised and sanctioned by Special Branch and others. The UDR also played a key role, providing weapons and intelligence and willing recruits to the death squads. Many unionist paramilitaries were former or serving members of the UDR.
On Halloween night 1993 UDA killers walked into the Rising Sun Bar, a pub known to be frequented by Catholics and shouted "trick or treat" before spraying the lounge with bullets. Nineteen people were wounded and eight died from their injuries.
Knight later admitted standing 'guard' at the door of the pub armed with a sawn-off shotgun during the attack and driving the getaway car from the scene. He also admitted being part of a UDA gang that shot dead four Catholic workmen in Castlerock in March 1993.
Significantly, on the day of the Castlerock murders, two of three possible routes usually taken by the workmen travelling together in a van had been closed by the RUC. At Gortree Place gunmen emerged out of another van, killing one of the front passengers before spraying the rest of the vehicle with gunfire.
Four workmen were killed and a fifth seriously wounded. One of those killed, James Kelly, was later claimed as an IRA Volunteer. It is widely believed that the first gunman to open fire is a former member of the UDR.
Despite the fact that the gun attack took place within view of a RUC barracks, the killers appeared unconcerned about surveillance. After making an initial getaway, they returned to the scene, driving slowly past their victims before driving away again.
Knight, jailed for Greysteel and Castlerock, was released under the terms of the Good Friday Agreement in July 2000. Sentenced to life imprisonment for 12 UDA murders, he was subsequently paid £50,000 a year through a bogus Special Branch account.
The payments came to light after bank staff noticed the notorious loyalist withdrawing two large amounts and checked his account. A bank official, imagining that Knight must be accruing a fortune through illegal means, informed the PSNI. The PSNI confirmed the payments were legal before transferring the account.
Knight began his criminal career as a teenage petty thief who preyed upon family members including an elderly relative. It is unknown exactly when Special Branch identified him as a potential agent but his predilection for easy money and ruthless disregard for others made him an attractive proposition.
What we do know is that Knight was working for Special Branch at the time of the Castlerock and Greysteel massacres. Earlier this year it was revealed that Police Ombudsman Nuala O'Loan was investigating claims he was protected as a Special Branch agent at the time of Castlerock and Greysteel.
At the time Ronnie Flanagan was head of RUC Special Branch. He later became PSNI Chief Constable. There have been calls for Flanagan to go public on whether he knew Knight was a paid, protected agent.
According to Coleraine Sinn Féin Councillor Billy Leonard: "Not only was Torrens Knight protected and paid but many believe at least two other, more senior figures involved in the killings, were working for Special Branch. A number of key figures were former members of the UDR." One was killed in 1994, the other remains at the heart of the local unionist paramilitary group. It is believed he carried out murders and took part in Greysteel and Castlerock. He is implicated in the murder of Donegal Councillor Eddie Fullerton.
Recently exposed secret British government files show that the British Cabinet was aware of large-scale collusion between the locally recruited British army regiment and loyalist death squads as early as 1973.
According to the documents in the early 1970's up to 15% of the UDR were linked to paramilitary groups and the regiment provided "the single best source of weapons for Protestant extremist groups".
By the 1980's the Thatcher regime had developed established wide-scale informal collusion, through MI5 agents like Brian Nelson and Charles Simpson, into a murder machine more finely tuned to British counter insurgency strategy.
Victims of collusion in County Derry and the South East Antrim area include John Davey, Gerard Casey, Tommy Donaghy, Bernard O'Hagan, Danny Cassidy and Malachy Carey.
Davey, a Sinn Féin councillor, was murdered while returning home from Magherafelt Council in February 1989. He was shot several times at close range through the driver's window of his car. The headlights were switched off and the handbrake was on, suggesting that he stopped at what he believed to be a crown forces roadblock. He had been repeatedly threatened prior to his murder.
IRA Volunteer Gerard Casey was shot dead in what later emerged as a classic collusion style killing. Two gunmen smashed their way into Casey's Rasharkin home on April 4 1989. He was killed at close range as he lay in bed beside his wife and baby daughter.
Special Branch in Castlereagh Interrogation Centre had threatened Casey saying they would have him assassinated and the killing would be claimed by unionist paramilitaries. Just prior to the attack the RUC removed his legally held shotgun and drew a sketch map of the interior of his home.
Tommy Donaghy, a Sinn Féin worker, was shot dead at close range as he arrived for work at Portna Eel Fishery near Kilrea on 16 August 1991. His family had been threatened by the RUC who told them Tommy would be dead before Christmas. Donaghy had been told by the RUC that his personal details had been passed into the hands of loyalists.
Bernard O'Hagan, a Sinn Féin Councillor was shot dead by a lone gunman as he arrived for work at Magherafelt College on 16 September 1991. O'Hagan was one of a number of Sinn Féin councillors attacked and killed during this period. Others include his Magherafelt colleague John Davey and Eddie Fullerton of Donegal. Fullerton was killed on 25 May 1991. One of the guns used in the murder was later used in the Castlerock massacre.
Danny Cassidy died on 2 April 1992 when his car was sprayed with bullets after he stopped to speak to a neighbour a few yards from his home in Kilrea. Forty eight hours earlier the RUC told Cassidy he would be killed.
A member of the RUC's notorious DMSU had told Cassidy that there would be "a hole in his head big enough to put a fist into". Another RUC officer pointed a rifle at the victim's head. Cassidy's photograph later surfaced on a crown forces montage in the hands of unionist paramilitaries.
Malachy Carey, a former Sinn Féin election candidate, was shot by a gunman as he walked along a street in Ballymoney on 13 December 1992. He died a short time later in hospital. Carey had been told by the RUC that his personal details were in the hands of unionist paramilitaries.
A number of families, including relatives of Gerard Casey, Tommy Donaghy and Danny Cassidy have cited further aspects of the killings that suggest their family members had been victims of collusion.
When relatives raised the issue of collusion during the inquest into the killing of Tommy Donaghy, the family was subjected to intimidation by the RUC. Later on the same day, an RUC Land Rover pulled up outside their home and an officer fired three shots in the air.
During the inquest into the killing of Danny Cassidy senior RUC officers admitted instructing junior colleagues to harass the victim prior to the killing. Following this revelation the inquest was adjourned and is still pending 14 years later, with no indication when it will be resumed.
The presence of an RUC officer, allegedly off duty, from Ballymoney in a vehicle just two cars behind the killers' vehicle during the murder of Cassidy has also raised concerns about collusion.
On the day of Danny Cassidy's murder, the actions of crown forces in the area led a local republican to alert the media, predicting that someone in the area was going to be killed. Later that day Danny Cassidy was shot dead.
The families have also cited suspicions regarding two guns found during this period in a lay-by outside Kilrea. Two people were reportedly arrested, the car was seen being taken away for forensic tests and yet no charges were ever made.
A loyalist who was later charged with possession of a gun used in the killing of Sinn Féin Councillor Bernard O'Hagan in 1991 was not charged with his murder. The loyalist was a relative of one of those convicted of the Greysteel massacre.
One of the guns used in the murder of Tommy Donaghy near Kilrea was described during his inquest as having "a particularly tragic history". However the RUC refused to detail that history and the suspicion remains that it was the same weapon used in the murder of Gerard Casey.
It is believed that in 1993 Torrens Knight's Special Branch handlers moved two high powered rifles from Agivey River at Hunter's Mill, near Aghadowey after local anglers alerted the RUC of their discovery. The weapons were later used by Knight's gang in the Greysteel massacre.
"There are many more questions to be asked, not only about Knight but also his accomplices and their Special Branch handlers," said Billy Leonard. "There are other key figures that have roamed free while playing key roles in directing loyalist killers' activities," he said.
Dublin City Council calls for Fullerton Inquiry
Fifteen years after the murder of Sinn Féin Councillor Eddie Fullerton in Donegal the Eddie Fullerton Justice Committee (EFJC) says it will be meeting over the next few weeks to agree a strategy for the way ahead. "We will renew our efforts to engage with the British and Irish Government representatives, including Minister McDowell and the Police Ombudsman, Nuala O'Loan, and will be putting to them our key demands. It is worth noting that Minister Michael McDowell has never responded to our previous request to meet with him.
Meanwhile Dublin City Council has unanimously backed a Sinn Féin motion calling for a full independent inquiry into the Fullerton's murder.
Speaking after the council meeting last Monday, 22 May Sinn Féin Councillor Daithí Doolan said he hoped the vote would give encouragement to the Fullerton family. He said it had long been suspected that the murder took place as a result of collusion between unionist paramilitaries and British Intelligence. "And critically there have also been questions raised about the role played by the Garda in the weeks leading up to his death and in the investigation that followed. There was no proper examination of the scene, crucial forensic evidence was never examined and key witnesses were not interviewed. It is now known that three of the Garda discredited by the Morris Tribunal were centrally involved in the flawed investigation and one of them, Detective Garda Noel McMahon was branded corrupt and a liar", said Doolan.
He said that for 15 years the Fullerton family had spearheaded a campaign to discover the truth. He paid particular tribute to Eddie s son, Albert, who led the campaign for many years and died in tragic circumstances in March. He urged the Irish government to support the Fullerton family in their demand for a full, public independent enquiry into their father's murder.