11 May 2006 Edition
Republicans never so close to victory- McBride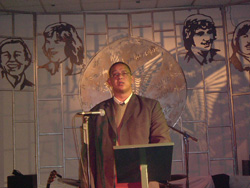 Bobby Sands Memorial Lecture 2006
Robert McBride, former political prisoner, leading member of the African National Congress, and currently Chief of Police for Johannesburg's East Rand District delivered the annual Bobby Sands Memorial Lecture in Belfast last Friday on the 25th anniversary of Sands' death.
McBride said that as an outsider he was independent but not neutral on the issue of Ireland's freedom struggle. "My background is one of struggle against imperialism, colonialism, discrimination and oppression. I can never accept the idea of a foreign government maintaining control of another country. The very rightness of the republican aspiration will ensure the ending of occupation", said McBride. He said the impact of 1916 and 1981 forever changed the Irish political landscape.
"For Bobby Sands the decision and that of his fellow comrades not to be classified and treated as criminals was a fundamental act at a particular time in Irish history in which the legitimacy of the struggle was being questioned.
"Prior to Bobby Sands period of imprisonment he was an activist and fighter in the struggle. He was an organiser within his community. He had farsightedness. A critical aspect of his character that is important for liberation fighters, all over the world wherever and whenever they emerge, is contained in the poem The Rhythm of Time", he said.
McBride said that when Bobby Sands was jailed for the second time, "his commitment to the struggle did not dampen, he continued to write, organise and struggle. And when he had no other option he decided to fight for his dignity with his very life. He was fully aware of the risks and he was mature enough to know the possibilities. Attempts to criminalise the struggle by the British government failed dismally with his election as MP for the constituency of Fermanagh/South Tyrone. Bobby Sands and his comrades died for their dignity, the struggle and the people. They died for a new tomorrow.
"Today the scene in Ireland has been set for that new tomorrow. A new situation has arisen. Admittedly the situation is fraught with dangers, fraught with risks as it was in 1916 and 1981. But the new situation also presents new opportunities.
"For the sake of the future and with our minds on the sacrifices made over the centuries in all parts of the world, it is incumbent on all of us that the opportunities are recognised. The opportunities can be seen if we don't allow the pain and the hurt of the past to blind us.
"We need to see them through different eyes. We need to see them through eyes that believe in a new tomorrow where our only revenge will be the laughter of our children", McBride said.
Touching on the effects of the Irish Hunger Strikes in South Africa he said that In May 1981 when the news came through of Bobby Sands' death it affected that way in which politiocal prisoners in South Africa responded to their own situation.
"A short time later Nelson Mandela led a struggle to improve our prison conditions. Prison conditions in South Africa were changed and improved. It opened our eyes to a new way of resistance in prison, where before we may have meekly submitted, we now understood there was a new weapon to use.
"I myself was to go on hunger strike on a number of occasions during my imprisonment. The code word for resistance through hunger strike in prison was 'doing a Sands'. It gave us a method to rally around issues and keep our cohesiveness within prison."
McBride pointed out that in the 1920's after the death on Hunger Strike of the Mayor of Cork, Terence MacSwiney, the ANC general secretary sent messages of support in what was to be the first contact between the ANC and Sinn Féin. At that time both were fledgling organisations.
McBride said it was important to remember that as Ireland moves into a sensitive period in the march towards freedom, every action has an impact on that march. Every action either contributes or impedes nation building.
"Under the present circumstances the physical force tradition is no longer being used as a means of achieving our objectives but this doesn't mean we are in a weaker position, we are simply exploiting other forms of struggle.
"To make peace we have to engage with our enemies and in the particular situation in this part of Ireland the Republican Movement has gone out of its way to open up engagement. I think it is time the process of nation building gets underway", he said.
Adressing the issue of policing McBride said that a police service "cannot claim to be neutral if it is still monitoring, spying, interfering with those it perceives as its political enemies, especially in the absence of violence. A democratic police force should be protecting the interests of all political parties and all political discourse. At some stage republicans will have to get involved with policing, the time when that happens is the prerogative of the Republican Movement."
He said that never before had Ireland been as close as it is now to "the resolution of the problem that has impeded it for centuries. It is the closest to victory its freedom fighters have ever been. It is important to recognise that. "
He said that in discussions with people during his visit it had ocuured to him that armed struggle is in some ways easier. "It is easier to measure your successes. If you plan to blow down a building and that building is brought down, then you can see your success.
"When the battlefield becomes political struggle is not always so easy to judge, to evaluate. It involves long-term, complex strategies that require patience. It is a difficult period and its important that people understand that it is everyones responsibility to be part of the march forward. We owe it to the memories of those who have sacrificed their lives."