6 April 2006 Edition
Funding: Government decision sectarianising poverty
BY LAURA FRIEL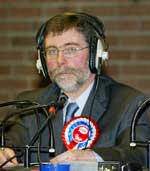 Divide and spin - Britain's new poverty strategy?
The British government's announcement of an exclusive multi-million pound funding package to address unionist perceptions of greater need is threatening to sectarianise the issue of poverty in the North.
British minister for the Department of Social Development David Hanson this week announced a £33 million package to fund an action plan to tackle disadvantage, exclusively in unionist areas.
A spokesperson for the DSD admitted that despite the fact that "nationalist areas still made up around 70% of designated areas of social deprivation", unionist areas remained "a key priority for government". The DSD justified the disparity by claiming that nationalist communities are "more self-resourced, more socially cohesive and have stronger social links".
No longer able to secure sectarian privilege by political domination, unionists have been reduced to special pleading. Repeated objective measurements of social deprivation and poverty in the North have exposed greater and more persistent need within nationalist areas. Faced with this reality, unionist politicians have developed a whole new way of defining need in terms of "perceptions" and "emotions".
Unionist leaders see the Good Friday Agreement and its commitments to inclusive power sharing and equality as challenging the historic sectarian advantage the unionist community once enjoyed.
Ironically, any resistance against this shift from objective need towards the primacy of ideological special pleading, is increasingly portrayed as latent sectarianism. "Republicans and nationalists often attempt to deny that there is a problem," complained DUP MLA Nelson McCausland. The British decision to allocate funding exclusively for unionists "is a recognition by government that there is a problem and it is another step along what will have to be a long road to equality."
McCausland's notion of equality is not immediately obvious. It works on two levels. It reinforces unionist notions of themselves as the "victim" community by the subliminal suggestion that unionists, rather than nationalists, have been discriminated against all along.
The "lack of fairness towards unionists in favour of lavishing resources at republicans and nationalists is coming to an end," said DUP MP Nigel Dodds. On this level the DUP is appealing to the basest sectarian instincts of sections of its electorate. It's the sectarian equivalent of British racist notions of black communities taking all "our" jobs.
It is one thing for the DUP and other unionist politicians to espouse such nonsense and quite another for British ministers to act in accordance with such flawed and reactionary positions.
Poverty will not be tackled by political expediency or as a sop to unionism. Any attempt to displace objective verifiable need by ideological constructs such as perception and attitudes undermines the ability to develop, implement and evaluate real programmes of progressive change.
The British government's willingness to pander to unionist demands for exclusive status and special treatment is playing a dangerous game of division and spin.
The announcement of funding in East Belfast followed a scurry of activity in West Belfast last week. Clearly British ministers hoped to offset any appearance of capitulation to a sectarian agenda by first announcing funding and job creation in a nationalist area. British minister for Social development David Hanson announced a £737,000 cash boost for West Belfast, while his party colleague, Angela Smith, NIO minister for Enterprise, trade and investment announced a £12 million investment by Invest NI to go to the Engineering firm FG Wilson.
Smith chose to announce the multimillion-pound package at FG Wilson's West Belfast engineering plant against the media promise of 155 new jobs. Unfortunately there are no guarantees that any of the investment will create more jobs in West Belfast. The company, a subsidiary of a global engineering giant, has three plants in Belfast, Larne and Rathcoole. All indications suggest that the bulk of development is set to go to Larne.
As for job creation, inquiries about the promised 155 new jobs have revealed that no such jobs exist and will not exist in the future. Some funding is being used to re-designate a number of existing employees as "permanent" rather than "temporary" staff. The rest of the funding is likely to be swallowed up by more global concerns of "marketing support" within Caterpillar's Electric Power Division.
But the spin didn't end there. Most of the £737,000 announced by Hanson was repacked commitments made months ago, in one case over a year ago. In other words failure to deliver existing commitments was being dressed up as further commitments. It was an exercise in deceit and spin.
Repackaging existing funding, moving funding away from one point of delivery to another, repeated announcements of the same funding are all means by which British ministers are encouraging the perception of delivery without incurring the expense. The fairground illusionist may pull a rabbit out of a hat during every show but there's still only one rabbit.