6 April 2006 Edition
AGENDA: 99 Ardoyne residents murdered between 1969 and 1998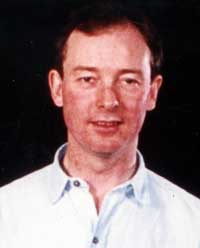 Alan Lundy - casualty of British policy
On 1 May 1993, Alan Lundy was shot dead by the UFF while working on the home of his friend, Sinn Féin councillor Alex Maskey. Alan, his wife Margaret and their four young children lived in Ardoyne, an area which had suffered so much from unionist killer gangs, but was in the relative safety of West Belfast when he was cut down.
Alan Lundy was a husband, a father, a son, a brother, a friend, a comrade, a neighbour, a worker and a valued member of his community- he was all of these things and much more.
Alan Lundy was a member of Sinn Féin. He had been interned some 20 years previously and was then imprisoned for a second time by the Diplock courts. He was one of 20 members or relatives of members of the party assassinated during this period. He was one of 99 residents of Ardoyne to be killed between 1969 and 1998, and he was one of almost 1,500 nationalists to die at the hands of the British state forces and the unionist paramilitary groups they ran throughout their war.
Alan Lundy died as a result of the policy of institutionalised collusion which the British state in Ireland has operated since the outset of the recent conflict. The person who pulled the trigger may well have been an Irish-born 'loyalist' but the people pulling the strings were at the very heart of the British Government.
The revisionist line on collusion is that it was a matter of some 'rogue elements' of the RUC or British army leaking intelligence documents on suspected republicans to autonomous unionist killer groups. This is far from the truth. The British, as a matter of policy;
Organised unionist paramilitary groups.
Supplied weapons to these groups.
Supplied military and special branch intelligence to them.
Used them strategically to target nationalist civilians - over 1,000 of whom were killed between 1969 and 1998
Used them to assassinate 'political problems', including republican activists, human rights campaigners, journalists and lawyers.
Alan Lundy was killed by the UFF, a cover name for the UDA which was set up in September 1971 by British agent Charles Harding Smith. In April the following year, when appearing in a London court with fellow agent John White and RUC officer Robert Lusty on charges of attempting to buy £100,000 worth of weapons, Harding Smith was supplied with a glowing reference from an RUC Assistant Chief Constable which referred to his usefulness as a 'pacifier'. They were acquitted.
In 1972 the UDA killed more than 70 Catholics, yet in November of that year, the British Prime Minister had a letter from his Ministry of Defence stating that "An important function of the UDA is to channel, into a constructive and disciplined direction, Protestant energies which might otherwise become disruptive." The UDA remained legal for the next 20 years during which time, in a 'constructive and disciplined direction', it killed another 300 Catholics.
The other major unionist paramilitary group, the UVF, was also under the control of the British state. Retired RUC Detective Jonty Brown recently said that every fifth or sixth UVF man was working for one or other branches of the security forces. That does not include those who were working with them, in mutually beneficial relationships. The commander of the UVF in Mid-Ulster, for example, amassed a personal fortune from construction contracts for the 'security forces' and had a licensed personal protection firearm. This despite the fact that his unit was responsible for dozens of sectarian murders.
From the very beginning of the conflict, the British state ran these organisations. They trained them, armed them and directed them to such a degree that it can justifiably be said that every unionist killing (and there were more than 1,000 of them) was a state killing. This use of pseudo-gangs to 'terrorise the terrorist community' was a tactic used by Britain in earlier colonial conflicts in Cyprus, Aden, Malaya and Kenya. There is no doubt that they are still at it in Iraq.
We can't bring Alan Lundy back, or any of the more than 3,700 people who lost their lives in the conflict. What we can do though is ensure that we build a society worthy of their memory and that none of their stories are lost in the lies and propaganda spun by revisionists.
Republicans need to focus on the main points around the collusion issue. Collusion was central to the British Government's counter-insurgency strategy and as such was pivotal in its attempts to defeat republican resistance to their rule in our country. Collusion goes straight to the heart of Britain's dirty war in Ireland.
As the Sinn Féin spokesperson on Truth and Victims it has been my experience that while there is a lot of goodwill towards victims and victims' issues, activists often don't know what they should be doing.
Families and victims' groups dealing with this issue require our assistance. We owe it to them and to all victims to do everything we can to help them in their campaigns.
On the broader issue of truth recovery and dealing with the past, which the British have turned into a site of struggle, Republicans need to actively challenge those who attempt to conceal and ignore issues such as collusion. The Sinn Féin groups on Truth and Collusion have a DVD presentation on this very question. If your area hasn't been covered you should ask through your Comhairle Ceanntair. In the meantime, you should be pushing for:
Acknowledgement by the British state of its role in the conflict and clarification of its actions throughout.
Adequate resourcing and funding by both governments to enable victims' groups to pursue their remits.
Equality of treatment for all victims and survivors and an end to practices that perpetuate and discriminate against victims of state violence and collusion.
An Phoblacht Magazine
AN PHOBLACHT MAGAZINE:
Don't miss your chance to get the second edition of the 2019 magazine, published to coincide with Easter Week
This special edition which focuses on Irish Unity, features articles by Pearse Doherty, Dr Thomas Paul and Martina Anderson.
Pearse sets out the argument for an United Ireland Economy whilst Pat Sheehan makes the case for a universally free all-island health service.
Other articles include, 'Ceist teanga in Éirinn Aontaithe', 'Getting to a new Ireland' and 'Ireland 1918-22: The people's revolution'.