6 April 2006 Edition
Government throwing Aer Lingus to wolves - Ó Caoláin
BY Mícheál MacDonncha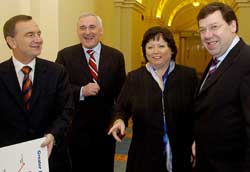 Sinn Féin Dáil leader Caoimhghin Ó Caoláin has said the Fianna Fáil/PD government is "throwing Aer Lingus to the wolves" with its decision to go ahead with flotation of the national airline on the stock market. Speaking after challenging the Taoiseach in the Dáil on this issue during Leaders Questions last Tuesday, Ó Caoláin said the decision "makes a mockery of democratic accountability and consultation".
Comparing the Aer Lingus sell-off to the privatisation of Eircom, Ó Caoláin said the Taoiseach had "ominously" failed to acknowledge what a disaster the Eircom privatisation was.
"The Taoiseach's reponse today makes clear that the Fianna Fáil/PD Government is determined to throw our national airline to the wolves. There is huge concern among Aer Lingus staff and among the wider public at the prospect of this privatisation. Local authorities around the country - including Dublin, Cork and Limerick City Councils and many more - have passed resolutions opposing the privatisation of Aer Lingus", Ó Caoláin said.
"The ICTU has asked the Government to acknowledge that investment in a profitable state company is not prevented by EU law. The Government has not addressed seriously the ICTU proposal for a State Holding Company for all state-owned enterprises.
"The Oireachtas Committee on Transport is due to consider the issue of Aer Lingus this Thursday. The Cabinet has taken its decision in advance of that important engagement and this makes a mockery of democratic accountability and consultation.
"At Leaders Questions the Taoiseach did not take the opportunity to agree with the vast majority of people that the privatisation of Eircom was a disaster. The Government appointed the same international banker to advise them on Aer Lingus who also advised them on the disastrous privatisation of Eircom", said the Cavan/Monaghan TD.
"We are told that the Government will retain strategic shares. But there will be absolutely nothing to stop multinational capitalists coming in, buying up the company and disposing of it as they please. They will not be concerned with the strategic transport needs of this country. They will not be concerned with maintaining direct routes from Ireland to destinations across Europe and the United States. They will be concerned only with the bottom line and if the short-term stripping of the company guarantees them the return they want then it is their interests, and not the long-term interests of this country, that will dictate the future of Aer Lingus", he said.