6 April 2006 Edition
British agent: Scepticism surrounds timing of murder
BY Aran Foley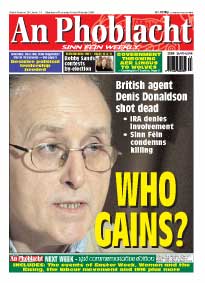 Denis Donaldson shot dead
The former British agent Denis Donaldson who was at the centre of what became known as the 'Stormongate' affair that led to the downfall of the Six County Executive was found shot dead in Donegal last Tuesday, 4 March.
Donaldson had been staying at a cottage near Glenties since shortly after his outing as a British agent at the end of last year.
The Sunday World newspaper had tracked Donaldson down and revealed his Donegal location in recent weeks. The newspaper secretly filmed an interview with Donaldson at the Donegal cottage which was subsequently broadcast on television.
Details of exactly what happened are still sketchy but it appears his attackers broke into the cottage where he was living and shot him some time between 10.30am, when he was last seen alive, and 5pm, when his body was discovered.
The IRA was swift in issuing an unequivocal denial on Tuesday evening. "The IRA had no involvement whatsoever in the death of Denis Donaldson", said the statement which was signed by P.O Neill.
Sinn Féin unreservedly condemned the killing. On Tuesday evening Sinn Féin President Gerry Adams addressed the media saying: "I have an entirely open mind as to who was responsible for this murder. Denis Donaldson worked for the Special Branch who ruthlessly used him to collapse a democratically elected government. Last year they were about to publicly expose him in a further effort to destabilise the process. It is likely that his death at this time is intended to undermine current efforts to make political progress."
Donaldson was one of three men arrested in October 2002 in what became known as the 'Stormongate' affair. Baseless accusations of a republican spy ring operating in Stormont were used to collapse the power sharing executive. The saga rolled on for a number of years until, 8 December 2005, when all charges relating to the incident were suddenly dropped without explanation.
On 16 December 2005 the true role of Denis Donaldson was exposed with the revelation that he had been working for British intelligence all along. Following a visit from PSNI officers, claiming that his cover as an agent had been blown and that he was to be exposed as an informer, he admitted to Sinn Féin officials that he had been working as a British agent for nearly two-and-a-half decades.
During an interview with RTE's Charlie Bird, Donaldson read out a statement admitting he was an agent for the best part of 25 years and that during that time he had received cash payments.
Donaldson then disappeared off the public's radar until 19 March when The Sunday World published photographs of him and the cottage he was staying in.
There is huge scpeticism about the timing of the killing, coming two days before the Irish and British Governments unveil their plans to inject momentum into the political process. Several commentators have pointed out that this may well have featured largely in the thinking of those behind the murder.
Sinn Féin Chief Negotiator Martin McGuinness has described the killing as a tragedy for Denis Donaldson's family, saying it had been condemned the length and breadth of Ireland. It was unfortunate that opponents of the Good Friday Agreement had already begun to use the murder to undermine the Agreement, he said.
Sinn Féin Dáil leader Caoimhghín O Caoláin empathised with the Donaldson family who he said had been through hell. He cautioned against jumping to hasty conclusions or trying to make political capital from the murder.
At a Garda press conference in Donegal on Wednesday, Chief Superintendent Terry McGinn, leading the investigation, confirmed that Donaldson died as a result of a number of gunshot wounds to the body. McGinn said Gardaí were not yet sure how long Donaldson had been dead when he was found. McGinn said that a passer-by alerted the Gardaí after it was noticed that a window was broken in the house in which Donaldson was staying.
Speaking in the Dáil last Wednesday, Taoiseach Bertie Ahern said he had no idea who had carried out the killing.