30 March 2006 Edition
Fógraí bháis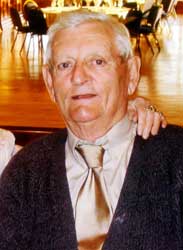 Johnnie Holly
Listowel was shocked and saddened by the death of Johnnie Holly, one of the town's best known and well-loved citizens. Dedicated husband of Teresa, their marriage epitomised unity and commitment. Johnnie could be seen accompanying Teresa to town, sharing household tasks and keeping the home fires burning. His last journey to town was with Teresa to the social welfare office to take care of her pension. It was there that he died on 23 February.
Johnnie was honoured with a republican funeral, and Sinn Féin North Kerry TD Martin Ferris gave the graveside oration to a large congregation in St Michael's cemetery.
Born in 1930, Johnnie came from a family with strong republican links. From an early age he was involved in the Republican Movement. Amongst numerous activities over a lifetime of commitment, was driving through the night to County Fermanagh on numerous occasions in the 1960's, leading teams who worked through the night to make passable, border roads cratered by crown forces.
Johnnie was elected to Listowel Urban Council in 1979 and served as a Sinn Féin Councillor until 1985 when ill health, and a resultant heart by-pass operation prevented him from remaining as an elected representative.
Johnnie was also a leading figure in the Listowel H- Block committee in 1981- 82. He continued his concern for the conditions of Republican prisoners through a long and active involvement with An Cumman Cabrach, undertaking many long journeys to visit prisoners in his trusty Morris Minor.
Johnnie was a strong supporter of the Sinn Féin peace strategy and firmly believed in the need for Sinn Féin to establish community based advice centres to provide a readily accessible service to local electors. He was therefore, particularly delighted by the opening of the Sinn Féin advice centre in Listowel in 2001, and was to be constantly found there, voluntarily manning the phones and answering queries on a daily basis, right up until his death.
He contributed enormously to the political life of his area. As well as serving as an elected representative, he was a successful election agent to Donal Kelliher in 1985, and played an immense role in garnering votes for Martin Ferris in his successful election to Leinster House in 2002.
As well as his political commitmen, Johnnie was a fervent supporter of Kerry football, travelling the length and breadth of Ireland to support his County, famously once travelling for five Sundays in a row to see Kerry play. His involvement in GAA football started in his youth when he played for the near legendary Gleann club. He also later played for Listowel.
Johnnie was a Gleann man through and through, and he relished the community spirit found in and around O'Connell's Avenue. His neighbours came to his always-open door, for a quiet chat, for a listening ear, or simply to hop the ball. He had a special love for children, reflected by the Gospel in his funeral mass "Let the children come unto me".
Johnnie was close to nature and he loved bird watching, fishing, and the raising of Canaries. The latter he pursued with a passion and pride. He had a special touch with these birds and could orchestrate sweet music from his 40-plus Canaries. Dirha bog was Johnnie's favourite spot on earth, where he worked like a Trojan, and at one with God, breathed in the calm, which was the essence of his nature.
To his wife Teresa, his family Mike, Lala, Sr. Noreen, and Pa, he left a legacy of love, generosity, understanding and simplicity. He always put their needs ahead of his. His attentiveness and care for his grandchildren was exemplary, Rebecca, John, Karina, Shaunagh, Patrick, and Caitlyn will sorely miss their "Gang-Gang". To Kathleen and Pat he was more than a Father in law, he was also a friend. He will be sorely missed by so many. His life however touched countless hearts with warmth, love, affection and laughter. Ní bheidh a leithéid arís ann.
Philip McDonald
Republicans throughout Fermanagh, Monaghan, Cavan and Leitrim were shocked and saddened to hear of the untimely death of Philip McDonald after a short illness on 5 February at the early age of 57.
Phil grew up on the Fermanagh/Monaghan border, in the townland of Derrybeg, a small area of County Monaghan, surrounded by County Fermanagh. Although a Monaghan man, Phil was forced to go on the run for more than two decades after his home was burned by pro-Briotish elements, and he moved to nearby Clones.
Phil was a family man. He married Ann Maguire and they had nine children, three boys and six girls. These early years were tough and they moved house a number of times. He wanted the best for Ann and the children and worked hard to provide for them. He was very proud of his family.
Phil joined the IRA at the outset of the current phase of conflict in the early 1970s. Because of his immense knowledge of the contours of the border, he was invaluable in the organising and planning of many activities in the area. The many Volunteers who came from all over Ireland in these early days looked to Phil for support, guidance and survival.
Phil's involvement quickly came to the attention of the Garda Special Branch. His life became dominated by harrassment, surveillance, house searches, arrest and a term of imprisonment in Portlaoise in 1972. Phil never allowed this to deter his commitment and on his release returtned to where he had left off.
To his comrades Phil was a shrewd man. He was reliable and often used his great sense of humour at difficult moments. He wasn't open to acting impulsively. He was long-headed, and had a great sense of judgement which was often a vital quality in staying one step ahead of the Special Branch.
As the conflict continued in the 1970s and '80s, the McDonald home became an open house for republicans. Nobody went hungry in the McDonald household. Volunteers were often known to take long detours just to get a wholesome meal.
Phil stood as a Sinn Féin candidate in the Fermanagh local governmentr elections of 1997. Although he didn't take the seat on that occasion, he prepared the ground for the winning of a seat at the following elections.
Phil's life wasn't without personal tragedies. In September 2003 his son Francis died at the young age of 21. Phil and his family were again devastated in August 2004 when his first grandchild, Eimear McElwain died suddenly aged 11 months.
Then last year Phil was diagnosed with Leukaemia. All of us who knew Phil, who shared the difficult times and those who knew him socially, could not fail to be impressed with his great dignity and strength during his illness, qualities he demonstrated as an active republican.ican.
Phil always spoke of a united Ireland, something he said was inevitable and he would see in his lifetime. Although his dream wasn't fulfilled, he nevertheless played a huge role in creating the conditions in which a future generation will realise his goal. He supported the current strategy and was proud of our leadership.
The many hundreds who turned out for his funeral in Clones showed the esteem in which he was held. Neighbours of all political and religious persuasions came to say farewell. Comrades from the past 35 years gathered to pay their last respects. Phil's coffin, draped with the Tricolour, and with beret and gloves was led by a piper and carried through his native Clones to the Sacred Heart Church. The large church was packed to capacity for the Requiem Mass, with a couple of hundred still outside.
Following the service Phil, flanked by a colour party, was laid to rest in the nearby cemtery, where his friend Councillor Pat Treanor gave the oration.
Sár poblachtánach den céad scoth agus fear cróga, saothrach ab ea Phil.
To his wife Ann, children, wide family circle and friends, we convey deepest sympathies. Ar Dheis Dé go raibh a anam dílis.