30 March 2006 Edition
Fifth Column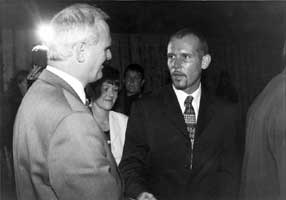 Prickly pair
DUP heads Ian Paisley Jnr and William McCrea got all prickly over British Premier Tony Blair's comparison last week of Islamic bigots to Protestant bigots.
Blair told the Foreign Policy Centre in London that his ministers have been advised against using the phrase "Islamist extremist".
"There are those perfectly decent-minded people who say the extremists who commit these acts of terrorism are not true Muslims. And, of course, they are right.
"They are no more proper Muslims than the Protestant bigot who murders a Catholic in Northern Ireland is a proper Christian.
"But, unfortunately, he is still a Protestant bigot. To say his religion is irrelevant is both completely to misunderstand his motive and to refuse to face up to the strain of extremism within his religion that has given rise to it."
McCrea - who had no problem sharing a platform with the sectarian murderer and LVF gang leader, Billy Wright, despite the DUP's supposed aversion to talking with 'terrorists' - spat that Blair's remarks are "disgusting". McCrea added that Protestants had unreservedly condemned "so-called loyalists who murdered innocent Catholics", although he forgot this on his high-profile night out with Billy Wright.
Son of Paisley raged: "This is a studied insult of the Protestant community!"
How?
We wouldn't say that unionist sectarian killers and bigots are representative of the Protestant community; does Paisley Junior feel that they are one and the same? Or has Blair scratched the surface of the DUP?
Spanish bull
Michael McDowell isn't the only Justice Minister in hot water.
Just before ETA announced its ceasefire, Spain's Justice Minister, Juan Fernando Lopez Aguilar, ran into flak from the right-wing opposition Popular Party by comparing them to ETA.
The Socialist Party figure said that, since losing the last general elections two years ago, the Partido Popular had made more noise than ETA.
The PP's head honcho in the Basque Country, Carmelo Barrio, demanded a "full and complete apology" from the Justice Minister.
"If an apology is not forthcoming, then clearly, Mr Lopez Aguilar is not fit to head the Justice department in Spain."
Maybe Michael McDowell can give his Spanish counterpart lessons in how to say sorry without really meaning it.
Loyal to the crown (and the dollar)
Those SAS soldiers who helped rescue the Christian peace activists held hostage in Iraq will be there to welcome their royal highness, unless they cash in their commissions for cash commissions as mercenaries - sorry, 'private security operatives'.
Nearly one in four of Britain's special forces have quit in the last three years to cash in on the war.
More than 120 troopers from the 300-strong SAS and the 232-man Royal Marines' Special Boat Service have opted for up to seven times their government wages to work for what even a former deputy commander of the SAS, Colonel Clive Fairweather, described as "the acceptable face of the mercenary trade" with Brit and US firms.
Of the 20,000 hired guns serving with mercenary outfits in Iraq, at least 1 in 10 are former members of the British Army and the RUC, earning £14,000 a month.
Gives a whole new meaning to the command, "Charge!"
Shooting from the lip
Fine Gael TD Fergus O'Dowd was obviously stung in exchanges with Sinn Féin TDs in the Dáil last Tuesday week when he snapped back at them:
"At least my party never killed anyone."
So much for Fine Gael's claim to the legacy of Michael Collins then.