30 March 2006 Edition
Scotland: Irish diaspora has role in shaping new Ireland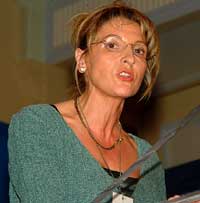 Succesful Scottish engagement
On a recent visit to Scotland, Sinn Féin Ard Comhairle member, Martina Anderson, accompanied by Jim Slaven of Cáirde na hÉireann addressed the local Irish Community on their potential role within the Irish peace process. Speaking to An Phoblacht Martina said that "much of the discussions centred around one of the strategic challenges which had been set out by the Party President in his presidential address to the 2006 Ard Fheis- that of building support for re-unification in Britain".
Anderson pointed out that the Irish Community in Scotland "had faced decades of discrimination yet have become resourceful, resilient and articulate advocates of the human rights of our people. This is a potential that had yet to be fully utilised."
Addressing Sinn Féin supporters from across Scotland Martina stressed that the Irish Community in Scotland has a clear role in shaping the debate on a new Ireland.
Planned re-unification also meant planned disengagement and the influence of the Irish diaspora and international opinion must be focused to this end. "The process of reunification must also be underpinned and sustained by a substantial peace dividend from both governments", Anderson said.
Later when speaking with Scottish MSPs Margo McDonald (Ind), Frances Curran of the Scottish Socialist Party and Labour Councillors, Anderson pointed out that while the intention of devolution was to merely change in definition the social and political relationship with central government that the outcome had been the development of a greater desire for independence. In regard to Ireland she said that "the process shows the need to develop stronger links with the Scottish and Welsh parliaments to harness the devolution opportunities which exist and are growing, bringing about the potential for dislocation from within".
Anderson conducted a number of interviews both inside and outside the Scottish parliament and despite critical remarks from some MSPs such as Tory Phil Gallie, who campaigned for the release of the British army killers of Peter McBride, her visit was regarded as important and will assist in building greater relations with groups and organisations throughout Scotland.