30 March 2006 Edition
"We will prioritise healthcare" - Ó Caoláin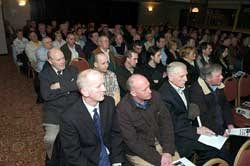 Two hundred delegates representing Sinn Féin cumainn throughout Counties Cavan and Monaghan unanimously selected sitting TD Caoimhghin Ó Caoláin to contest the forthcoming General Election as the sole party candidate in the constituency. The convention in Cootehill, County Cavan on Thursday 23 March was chaired by Sinn Féin vice-President Pat Doherty, MP for West Tyrone.
Addressing Sinn Féin's priorities in advance of the next General Election and beyond, the Sinn Féin Dáil leader said: "We will prioritise the issue of Healthcare which is a basic right for all of our people. It is a right denied to far too many today. We will be exposing the abject failure of the Fianna Fáil/PD government over the past nine years and campaigning for a truly equitable and efficient health service with universal access for all and an end to the two-tier, public-private system we now suffer."
• Sinn Féin vice-President Pat Doherty addressing the Cavan-Monaghan constituency convention with (left to right) Monaghan Comhairle Ceantair Cathaoirleach Cllr. Matt Carthy, Caoimhghin Ó Caoláin TD, Connacht-Uladh Cathaoirleach Tina Tully and Micheál Mac Donncha.