30 March 2006 Edition
NERF: Policy, campaigns and effective representation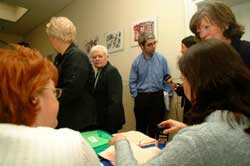 Adavancing political change
BY RÓISÍN DE ROSSA
A key Sinn Féin meeting on Saturday, 25 March in Dublin, brought together many of the party's 400 elected representatives throughout Ireland. The AGM saw Sinn Féin representatives embark on a year of a revitalised organisation, working to develop real politics in the various institutions and aiming to build widespread support and campaign work to advance political change across Ireland.
Addressed by Party President Gerry Adams, the meeting was chaired by Anne Brolly, Limavady Council in the sad absence of Pauline Tully who, through the death of her mother, was unable to attend.
Adams thanked all those throughout the country who represent Sinn Féin, which he said "expects the very highest standards from our representatives. "We take our example from the first MP and TD of our generation - Bobby Sands and Kieran Doherty. "While we cannot expect to emulate their sacrifices, their example, their integrity, generosity, comradeship and dedication, along with that of Councillor Eddie Fullerton, Councillor John Davey, Councillor Bernard O'Hagan, Sheena Campbell, Vice President Máire Drumm and the many other members of this party and family members and friends who were killed, are the role models for us today.
Health campaign
Mícheál Mac Donnacha, on behalf of Caoimhghin Ó Caolain TD, addressed the development of a Sinn Féin campaign on health saying that in the first three months of the year, an average of 300 people daily were left on hospital trolleys or chairs. On several days last week this rose to 500. In 2001 the Government promised more hospital beds, but they have still not been provided.
Mac Donnacha emphasisied the importance of Sinn Féin's new healthcare policy ,calling for free provision of healthcare to all at the point of delivery. The state clearly has the resources to afford this but instead is implementing plans to have 39 private treatment centres partly funded from general taxation.
Shannonbrooke Murphy, Director of Sinn Féin's Policy and Research Development Department, gave a presentation on new ways of developing policy within the party to enable more participation by elected representatives and members.
Aengus Ó Snodaigh TD said recent, rapid changes in Ireland meant that one fifth of the country's population are migrants. He talked of the importance of policy which sets a clear priority on the building of one community, not the separate development of ghetto cultures, which fail to assimilate minorities.
Ó Snodaigh called on councils to produce packs on workers' rights, and to provide anti-racism training for all officials.
Sinn Féin needed to address growing evidence of racism through its work in Councils. He said such measures needed to be taken before it was too late, and racism escalates as in Britain and other EU states.
Philip McGuigan MLA gave a video presentation about the campaignimng work of An Fhirinne, representing the families of the victims of British collusion with Unioinist paramilitaries. The powerful DVD demonstrated the British government's reluctance to engage in a meaningful truth process because of its involvement in some of the worst atrocities of the conflict.
Resolutions on waste management, positive dircimination towards the promotion of women in the party and policy on the Seanad provided lively discussion.
As the NERF takes on the task of reconstitution, with a new full time political manager, Joan O'Connor, the AGM turned to the key business of discussing the priorities for the coming year, and how best to co-ordinate the work of elected representatives. The AGM endorsed the proposal that the Forum would aim to reflect national politics with a particular focus on outreach and building alliances, and would provide a forum to co-ordinate the work of councillors to give support and advice to elected representatives and have an input into policy research and development.
The year ahead
A programme of work for the year ahead, introduced by NERF Vice Chair and Tyrone MLA Francie Molloy, identified the priority tasks as building campaigns, responding to national demands, including recruitment to the party, shaping public opinion to reflect Sinn Féin's all Ireland strategy, in particular the Green Paper on Irish Unity, working to reduce the impact of partition in the border counties, and providing a support framework and communication network for councillors.
Conference workshops discussed these priorities, the next steps for the NERF, progressing the peace process, and how to build political campaigns. A new NERF executive board was elected unopposed, with Joe Reilly, Francie Molloy and David Cullinane in the positions of Chair, Vice Chair and Secretary. David replaces Matt Mac Carthaigh, who was thanked by the chair for his contribution to the NERF. Joe Reilly and Patrica Logue were elected as Ard Comhairle representatives.
Adams update on negotiations
Sinn Féin President Gerry Adams delivered a keynote address to the National Elected Representatives' Forum focussing on the challenges ahead for Irish republicans and giving the Forum an up-to-date assessment of the current negotiations around the restoration of the political institutions in the North. The full text of Sinn Féin President Gerry Adams' speech to the NERF AGM, dealing with political negotiations, can be accessed at: www.sinnfein.ie/news/ detail/13625