30 March 2006 Edition
Education board refuses to implement cuts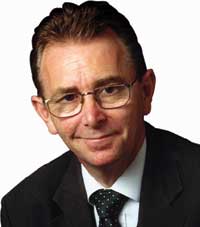 Belfast Education & Library Board (BELB) has become the first education board in the Six Counties to refuse to implement British Government cuts to school budgets. saying it would be "immoral" to preside over cuts impacting adversely on children. Of 25 members present at the meeting on Monday 20 March, 20 voted against implementing cuts. They now face suspension unless there is a u-turn by Thursday 30 March.
Areas affected by the cuts include special needs, crossing patrols, the cost of school meals and jobs at the Belfast based School Of Music.
The BELB's decision came just hours after Sinn Féin held a protest outside the Board offices. Sinn Féin education spokesperson, Michael Ferguson, said elected representatives should stand firm against the cuts and called for the British Direct Rule Minister responsible to stand down. "Sinn Féin took a policy decision when returning to Education and Library Boards following last year's local government election,s that they would not police British government budget cuts to education and all of our members have stood firm on this matter.
"Sinn Féin has lobbied all the other parties to adopt a similar position and to refuse to do the British government's dirty work on the grounds that it would be irresponsible to cut services to special needs children, patrol crossings to schools, maintenance to buildings and psychology and speech therapy support."
Ferguson challenged any attempt to sack board members for taking responsible action and called for the resignation of Direct Rule Minister, Angela Smith.
"It is crucial that everyone unites against the erosion of the education system by British Direct Rule Ministers. The sooner we put the Assembly back in place the sooner we will have a locally accountable minister with a real budget to support education and learning", Ferguson said.
The Unison trade union has promised to "stand four square" behind the BELB "if they stand behind the children of Belfast."