23 March 2006 Edition
Suicide Prevention Day of Action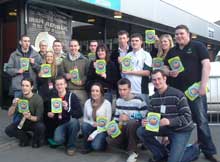 Ógra Shinn Féin organised a Suicide Prevention National Day of Action on Wednesday 22 March. Ógra cumainn and youth activists were active across Ireland, from Derry to Kerry, with protests, candle lit vigils, information stalls, leaflet drops and public talks on the issue.
Andrea O'Kane, Ógra Shinn Féin spokesperson said: "Through our mobilisation's we hope to raise awareness around the issue and to bring pressure on the two governments to implement an all Ireland approach to suicide prevention."
It is estimated internationally that 1 million people take their own lives every year:Ireland has the second highest suicide rate in Europe. This rate has increased by more than 25% over the last decade. Suicide is the biggest killer of young people in Ireland.