23 March 2006 Edition
Taoiseach challenged on restoration of Executive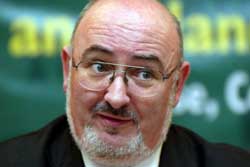 Sinn Féin leader in the Dáil, Caoimhghín Ó Caoláin TD, challenged the Taoiseach to spell out precisely what steps the Irish and British governments intended to take to re-establish the Six County Assembly and Executive and to have all outstanding aspects of the Good Friday Agreement implemented.
The Cavan/Monaghan TD made his challenge during Taoiseach's Questions in the Dáil on Wednesday. He told the Taoiseach that there were four steps that needed to be taken. They were, for the British government to lift the suspension of the Assembly. The reconvening of the Assembly should immediately follow this. The election of the First Minister, Deputy First Minister and members of the Executive and the restoration of all the outstanding bodies must follow soon afterwards.
However, Deputy Ó Caoláin expressed his concern that the Taoiseach wouldn't commit to a definitive timescale and plan for the restoration of the Assembly and Executive, instead opting to talk of finding a "bridge which all can live with." "Is this a bridge too far or a bridge we call all live with?" the Cavan/Monaghan TD asked.
The Sinn Féin TD went on to warn the Taoiseach against any attempts to form "a sham Assembly with no Executive and no All-Ireland structures" saying it "would be totally unacceptable." He asked the Taoiseach if he agreed "that if in the period between the lifting of the suspension and the time to elect the Executive, the DUP refuse to share power, then the two Governments should agree to close down the Assembly altogether?" He then called on the Taoiseach to put the DUP to the "democratic test" saying that if they failed that test by refusing to form an Executive then the two Governments had an obligation to move to Plan B. In his response the Taoiseach said he hoped they wouldn't have to move to a Plan B but that some consideration had been given to such a scenario, although he stressed that he didn't want to go down that road at this stage.