23 March 2006 Edition
New Dublin Councillor nominated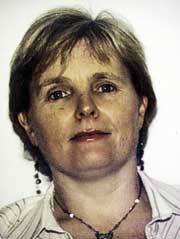 Dublin Sinn Féin has announced that the party will nominate Críona Ní Dhálaigh to replace Andrew O'Connell, the party's outgoing Councillor for the South West Inner City, at the April meeting of Dublin City Council. Elected to the council in 2004 Andrew has reluctantly had to step down due to family and work commitments.
"First of all, I would like to thank the people of the South West Inner City who have given me and my party tremendous support and it has been a great honour to represent them. It is with regret that I am announcing that I can no longer fulfil the role entrusted to me by the people here due to personal commitments. However, I am delighted to inform our constituents that Críona Ní Dhálaigh is an excellent replacement and I have full confidence in her"
Críona Ní Dhálaigh is a resident of Ballyfermot and is originally from Crumlin. She is the office manager at the Ballyfermot constituency office.
A mother of two young sons, Caoimhghín and Dómhnall, Críona is a fluent Irish speaker. She has been a republican since her teens and has always been an able and committed activist, highly respected in her community.
Sinn Féin TD for the area Aengus Ó Snodaigh thanked Andrew for his hard work and looked forward to working with him in the future. Welcoming Críona to the council he said: "Críona Ní Dhálaigh is a very able and capable community worker and will be a wonderful addition to the Sinn Féin team in Dublin South Central, working alongside myself, Robert Sargent and Tony Smithers to try and address the many problems of the South West Inner City, in particular housing, drugs, anti-social behaviour, transport and health issues. The people in the South West Inner City voted for change in the Local Elections in 2004. Sinn Féin is determined that this change will be delivered."