23 March 2006 Edition
Nuacht na nOibrithe
BY Justin Moran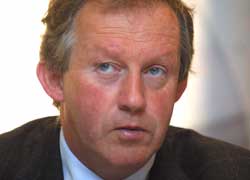 Vote for strike action at FÁS
FÁS head office staff in Dublin have voted by 87% for industrial action to oppose compulsory relocation to Birr, Co Offaly. SIPTU branch secretary Greg Ennis said that the vote "sends a very strong message from our members to FÁS management and provides a very strong mandate for industrial action.
"I will be seeking sanction for industrial action from the union immediately and I expect to serve strike notice within the next few days."
FÁS management has sought to link promotions to people agreeing to move to Birr, the constituency of Tom Parlon, Minister of State for the OPW, in charge of the Government's decentralisation plan. It also introduced new employment contracts requiring recruits to agree to decentralisation before being employed.
Management was told by the Labour Court that relocation must be voluntary, that FÁS must abide by procedures, and that it must refer the dispute back to the central decentralisation body.
However FÁS is still engaging in "promotional blackmail" to push through its own decentralisation agenda unilaterally.
Impact waver on Aer Lingus
While SIPTU seem set for a fight to oppose the privatisation of Aer Lingus the other major union in the company, Impact, is moving away from industrial action.
At a poorly attended meeting in Dublin Airport on Tuesday there was strong support for the idea of the Government retaining a 'golden share' in the company after floatation to protect the national interest. However, as An Phoblacht reported last week, there are legal and practical question marks over the possibility of such a mechanism.
Rather than ballot on strike action, Impact is attempting to obtain guarantees over job security and pay, despite the fact that any attempt by an outside investor to maximise profits must lead to cuts in pay and possibly safety expenditure.
The failure of Impact to take a principled stand on privatisation is a setback for hopes to protect democratic ownership of a successful company but SIPTU seems determined to continue, with members of the union picketing the Department of Transport earlier in the week.