23 March 2006 Edition
Dublin Anti war rally
BY Aran Foley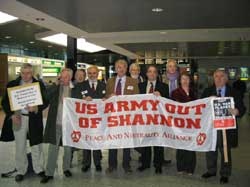 Nearly 1000 people braved freezing conditions in Dublin last Saturday to voice opposition to the war in Iraq and demanding an end to the use of Shannon airport by the US military.
Prominent amongst the marchers was a Sinn Féin delegation marching behind the Dublin Sinn Féin banner.
Sinn Féin International Affairs and Human Rights spokesperson Aengus Ó Snodaigh addressed the rally and called on the Irish Government to publicly demand that the EU and US pressurise Israel into ending its illegal occupation of Palestine. Ó Snodaigh called for a boycott of Israeli goods and also for a boycott of Cement Roadstone because of it's participation in building the so called security wall which is making life intolerable for Palestinians in the occupied territories.
A joint statement calling on the Government to act immediately to help end the slaughter in Iraq and to prevent any attack on Iran has been signed by Sinn Féin's five TD's.