23 March 2006 Edition
Retail competition: the affects on consumers and workers
BY ROBBIE SMYTH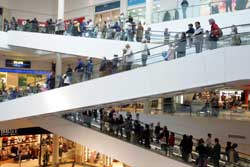 The high cost of low prices
Can low prices in retail stores be bad for consumers, for workers, for low income and poor households, for the economy and for the environment? According to a growing number of unions, environmentalists, charities and small businesses the answer is yes. This week as the Office of Fair Trading (OFT) in Britain begins a full scale inquiry into the competitive practices of the big four retailers, in Ireland new changes to competition law is putting our retail sector on the same footing as the now suspect British market.
An amendment to the Competition Act signed into law this week, removes a 19 year Dublin Government ban on below cost selling and has the potential to transform the Irish retail market.
In Britain, where below cost selling has been legal for many years the retail sector has been distorted with four retailers, Tesco, ASDA (owned by Walmart), Sainsbury and Morrisons now with 75% of a total market worth a staggering £95 billion annually.
There are a further 39,000 independent retailers in Britain, but their numbers are falling all the time. John Fingleton OFT chairperson estimates that 5% of small shopkeepers have gone out of business in the past five years.
What's wrong with below cost selling?
The OFT has a range of concerns about competitive practices in the British retail market. They include:
(1) Buying power. The big four use their huge purchasing power to secure lower prices from their suppliers who recoup these losses by selling to the small grocers at a higher price. This is cutting the margins of the independent corner shops who are not part of a big retail group. The small shops are carrying the costs of the big retailers.
(2) Below cost selling. The OFT has identified 2,708 products being sold below cost, this accounts for 3% of total sales, while 7% of drink sales are being sold below cost.
(3) Predatory pricing. In Britain the big four retailers have been accused of aggressively cutting prices to drive local independent supermarkets out of business, leaving the neighbouring big supermarket with a local monopoly on food sales in particular areas.
(4) Land hoarding. The big retailers have built up substantial land banks in Britain to prevent competitors from building supermarkets. The OFT has identified 468 such sites, and 75 sites which had been resold with binding clauses prevent the new owners from building retail food units.
Tescopoly
The OFT is not the only group concerned about the growing power of the retail food giants in Britain, Tescopoly.org and Breaking The Armlock are two umbrella campaigns that have also recently started to campaign about the activities of the larger retailers.
Tescopoly is a campaign started by the GMB union, War on Want, Friends of the Earth, the Small and Family Farms Alliance, Friends of the Earth and the New Economics Foundation amongst others.
The Tescopoly website claims that "Growing evidence indicates that Tesco's success is partly based on trading practices that are having serious consequences for suppliers, farmers, overseas workers, local shops and the environment."
Tescopoly are looking for a legally binding code of practice to ensure that all suppliers are treated fairly. They want an independent watchdog to ensure the grocery market is operating in the interests of consumers, farmers and small retailers.
They are also proposing a block on any new take-overs by Tesco or other major supermarkets and want government and local authority support for local shops. Finally Tescopoly want "measures to hold supermarkets accountable for internationally recognised workers' rights throughout their supply chains".
Breaking The Armlock describes itself as an "alliance of 16 farming, consumer development and environmental organisations calling for stricter controls over the major supermarket's trading practices". Their chief concern is the passing on of unreasonable costs to farmers and growers both in Britain and internationally.
The 26-County retail market
Both the Tescopoly and Breaking the Armlock campaigns believe that the current voluntary code of practice in Britain for supermarkets is failing. Even the OFT has concluded that "the code is not working effectively", yet in Ireland we are moving away from having some restraint on supermarket activity to effectively none.
All of the major chains in Ireland are planning expansion from the Spar, Londis, Centra, Suprevalu, Mace and Cost Cutter networks up to the top two of Tesco and Dunnes who control nearly half of the Irish retail market. There are now more than 8.6 outlets per 1,000 people which is slightly higher than the EU average.
Before changing the grocery order on below cost selling enterprise, minister Micheal Martin received submissions from the Combat Poverty agency, Crosscare and the St Vincent de Paul who all lobbied to have the grocery order kept.
The agencies argued that 9.4% of the 26-County population, live in consistent poverty and 22.7%, that's 903,000 people, are living on low incomes. Nearly 10% of the population have gone without a meal in the last fortnight.
The agencies also argued that these small retailers tend to stock goods with "saturated fat, sweets products, processed and convenience food", while their fresh vegetables and meat are hugely expensive. The diet of low income families will be adversely affected further by the lifting of the below cost selling order, as it is the fresh foods that won't fall in price.
The agencies also argued that the major supermarkets tend not to locate in low income areas, and transport to out of town shopping malls for low income families is not feasible. These households depend on the one stop convenience stores including independent retailers.
Going by the British experience, it is likely that many of these shops will either close or charge higher prices for the goods sold. So it will be low costs for those who can afford to drive to Tesco or Dunnes, while higher prices will be paid by those in poorer areas. Minister Martin rejected these conclusions.
For now the jury is out on the grocery order, the evidence from Britain is not good and with many of the same retailers operating in Ireland it could mean there are high costs to be paid for low prices. As usual in Ireland it is the economically marginalised who will be in the firing line in this latest government experiment.
Who are the Irish Retail Giants?
The 26 County retail market generated combined sales of just under €21 billion in 2003 in 11,251 outlets, the average size of which was 290 sq metres, roughly about the floor space of 3 semi-detached houses.
Musgraves has 513 outlets in the 26 Counties, BWG (Spar) has 400, Londis 300, Dunnes Stores has 152, while Tesco has 89.
In 2003 the new international entrants Aldi and Lidl accounted for 3 per cent of total retail grocery sales. Apart from Tesco and Musgrave, financial information about the profitability of Irish retailers is hard to come by.
Tesco recorded in 2005 revenue of €2.14 billion. They have 11,800 employees. Dunnes Stores has 18,000 employees and as a private company don't have to publish accounts. Musgrave's had €4.4 billion revenue in 2005 across their Centra and Supervalu network. Superquinn has 20 stores.