16 March 2006 Edition
Nuacht na nOibrithe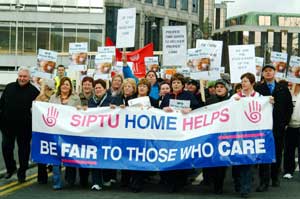 Home helps take to the streets
Over 200 home helps took to the streets of Dublin on Monday in a march on the Department of Health and Children as part of SIPTU's Be Fair to Those who Care campaign.
Home helps work from five to 39 hours a week providing assistance and care to the elderly or people suffering from sickness in their own homes. However, their hours are not predictable and are subject to being changed at short notice. If a patient is in hospital or unavailable, the home help does not get paid. This affects their holiday and sick pay entitlements as well as their weekly income.
Since August 2004, the Health Service Executive has failed to implement an agreement that would bring terms and conditions of employment for home helps into line with the rest of the Health Service.
The Union's Vice President, Brendan Hayes said that, "up to now the home helps had been invisible - mainly because they were women, but now that they had taken to the streets, the policy makers would have to sit up and listen."
Addressing the rally Sinn Féin's Cllr Daithí Doolan said, "Today's rally & protest gives health workers, community groups and the public an opportunity to lend their support to a growing campaign. Home help is a life line for many in our community, it allows elderly people to live at home and receive care in the dignity of their own homes. To simply allow the government shut it down, is totally unacceptable and will put further strain on an already inadequate health care system."
ASTI vote to rejoin Congress
As predicted in An Phoblacht last week, members of the Association of Secondary School Teachers of Ireland voted overwhelmingly to rejoin ICTU by a margin of almost four to one, having withdrawn in 2000.
Commenting after the result was announced ASTI General Secretary, John White said: "This vote of ASTI members to re-affiliate the ASTI to Congress means that we will be able to work together with the broader trade union movement for the good of teachers and the education service."
The vote was warmly welcomed by ICTU General Secretary David Begg and Congress is expected to fastrack ASTI's application to rejoin.
NASUWT demand restoration of Assembly
The National Association of Schoolmasters - Union of Women Teachers has called on local politicians in the Six Counties to get back into the Assembly to address the growing problems in the Northern education system.
Commenting before start of the NASUWT Conference at a Belfast Hotel Sinn Féin education spokesperson Cllr Michael Ferguson MLA said, "I agreed entirely with the NASUWT Conference sentiments that the Assembly needs to be functioning to address the educational needs of our children and young people.
"I would support the NASUWT call for the restoration of the Assembly and in doing so, draw particular attention to those marginalised children and young people who are suffering worst from the absence of local accountability, ethnic children, those from the travelling community and those excluded or falling out of the schools system."
The NASUWT has approximately 11,500 members in the Six Counties.