16 March 2006 Edition
Adams in US: Seeking support for process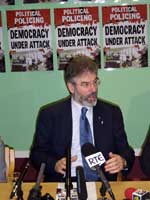 Opportunity exists to break impasse - Adams
Sinn Féin President Gerry Adams MP departed for the US last weekend to attend a series of engagements in New York, Washington DC and Massachusetts, where he will seek US support for Sinn Féin's strategy for the speedy restoration of the all Ireland political institutions.
In New York Adams will brief Irish American supporters of the peace process and meet with the Irish Lobby for Immigration Reform. He will also be in Washington DC to brief senior members of Congress including Senators Kennedy, Dodd and Clinton and attend the St. Patrick's Day event in the White House.
"The US has played an important role in advancing the peace process in Ireland over many years and I will be encouraging the continuation of this approach. It is my belief that an opportunity does exist to break the impasse and make progress in the coming weeks and I will carry that message to the US. However this will only happen if we see the two governments taking decisive action and in particular ending the flawed approach of allowing the DUP to veto all efforts at securing political process and the restoration of the power sharing institutions."
On Tuesday last, in advance of a major speech at St. John's University in New York, Adams said that 2006 would be a vital year in the Peace Process. "The political situation in Ireland has been transformed since the last St. Patrick's Day. Last year saw huge historic initiatives from the IRA. It formally ended its armed campaign in July, dealt definitively with the arms issue in September and removed itself from the stage.
"All of this has created huge opportunities which seven months later need to be built upon. That is my principle message to US politicians, media and especially Irish America. I will be asking supporters of the peace process in Irish America and political leaders on Capitol Hill to re-double their efforts to ensure that the opportunity which has been created is not thrown away."