16 March 2006 Edition
Annual Feargal O'Hanlon memorial lecture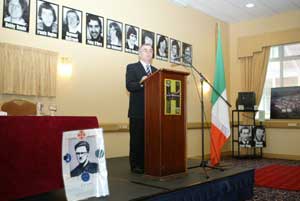 Hunger Strike redefined the struggle - McCartney
A large gathering attended the Feargal O'Hanlon memorial lecture in the Four Seasons hotel in Monaghan on Sunday 5 March. The lecture has been held annually since 1982 as a commemoration for IRA Volunteer Feargal O'Hanlon, killed in action during an attack on Brookeborough British Army barracks on 1 January 1957.
This year's lecture was delivered by Raymond McCartney, Sinn Féin Derry MLA . McCartney spent 53 days on Hunger Strike in 1980 and served alongside a number of those who eventually died on Hunger Strike in 1981.
Members of Feargal O'Hanlon's family who were present, included his sister local councillor Padraigín Uí Mhurchadha.
Outlining the significance of the 1981 Hunger Strikes to republicans he said:
"I feel that I can say without fear of contradiction that political prisoners, be that in Ireland or further afield, have a special place in our hearts for those who paid the ultimate sacrifice and laid down their lives on hunger strike. There is a bond, which will never perish nor can ever be broken.
"At its core the H Block/Armagh prison campaign was about the integrity of the struggle for peace and unity in Ireland.
"Therefore it is little wonder that the men who died in Long Kesh along with Michael Gaughan, Frank Stagg, Terence MacSwiney are names which come to our minds in times of uncertainty, fear and danger."
McCartney said that one of the greatest legacies of that period was the acceptance by republicans that struggle is not one dimensional and that it should never rely on any one aspect no matter how strong and capable it is. "In this context we can understand that the impact of the election of Bobby Sands as MP, and Kieran Doherty and Paddy Agnew to Leinster House, was immense.
"The emergence of a reinvigorated Sinn Féin has its genesis in this period. This is not to say that it would not have happened without the Hunger Strike, but the Hunger Strike certainly acted as a catalyst for change.
He said that by October 3 1981, the day the hunger strike ended, "Britain's policy of criminalisation had failed and internationally its role in Ireland was firmly in the spotlight. That year, and indeed in previous years through the auspices of the National H Block/Armagh Committees, the cause of the prisoners and the cause of Ireland was brought to all corners of the world.
"Nelson Mandela was one of many others who expressed their admiration for their revolutionary brothers and sisters in struggle in Ireland.
"Rather than defeat us, the experience of the Hunger Strike provided the platform on which the republican struggle was re-defined and taken to where it is today - Unbowed and unbroken.
"Thatcher's legacy is forever stained with her colonial despotism in Ireland", said McCartney.