16 March 2006 Edition
Media View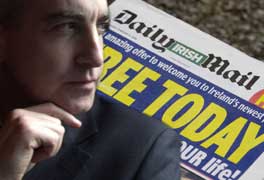 BY JOHN O'BRIEN
Plagiarism and hypocrisy
Plagiarism and hypocrisy are the mainstays of the Irish newspaper industry - with unscrupulous journalists regularly pinching each other's copy and passing it off as their own original thought. Equally, there is rarely a newspaper that isn't happy to criticise others for doing exactly what it does itself. Even so, you can imagine my surprise when I picked up my copy of the The Irish Independent this week and read an exposé of the Irish Daily Mail being accused of plagiarism in that it published as its own work facts researched by that scourge of all that is criminal, Paul Williams of The Sunday World.
I hold no brief at all for Paul Williams, but it is wrong for any paper to pinch his copy and try and pass it off as their own.
But the Independent Group has long been renowned in Irish journalism for doing just that, and it nearly brought my breakfast up to read the Indo's sanctimonious report having a go at the Mail.
Of course, the Indo is engaged in a life or death struggle with the Mail, with the two papers fighting for the same readership. And don't laugh at this but the Indo is putting itself forward as an Irish voice as opposed to the British bark from London in the Mail.
So the Indo was delighted with the chance to hold the Mail up to ridicule.
But you know what they say about people living in glass houses. The Indo editors must have short memories if they can criticise plagiarism with a straight face.
This is not a recent phenomenon. I remember back in the good old days, when The Irish Press was still in full bloom. It was when Tiede Herrema was kidnapped, and himself and his captors were found by the Gardaí and put under siege in a house in Monasterevan.
A young Press photographer, Cyril Byrne, at great personal risk, crawled out of the upstairs window of a house next to the siege house and used a tape recorder to record what was being said in the siege house. His report in the Press next day was a scoop, and the Press published under an Exclusive by-line in both its country and city editions.
You can imagine Cyril's feelings when he read, word for word, his own article in the city edition of the Indo. All that was missing was the Exclusive by-line and, of course, any mention of Cyril as the author.
********************
Just in case anyone thinks that I'm going soft on the Mail and its superior British notions, I must draw readers'attention to the nonsense put out by its sister paper, Ireland on Sunday last weekend.
With an absolutely straight face, the IOS told us that the Government intended to hold another abortion referendum and before the next general election.
Abortion is an exceedingly diffiult and divisive issue and twice already the Government has come unstuck in its efforts to change the Court rulings in the X and C cases. Everyone involved in politics knows that there is no appetite whatever, in government or in opposition, for another bite at this particular cherry, and that there is no possibility whatever of any such referendum.
The idea is so ludicrous that it doesn't even need to be denied. So why did the IOS publish such a stupid story?
Circulation, my friends, circulation.
There is nothing that boosts sales so much as references to abortion and referendums. And if the story fails to materialise in the long run, what does it matter once the sales have been made and the gullible have got into the habit of buying the offending rag?
If this were all, it would be sordid but of no great significance. But there is an underlying current of arrogance involved in this.
The British owners of the Mail genuinely labour under the delusion that the Irish are a priest-ridden people who are interested only in abortion, contraception, divorce and sundry sexual matters. They actually believe that by raising such issues - even without foundation - they are serving the deepest needs of their Irish readers.
It just goes to show that it's not only the West Brits of the Indo group that we must be wary of. The real Brits are just as bad.
An Phoblacht Magazine
AN PHOBLACHT MAGAZINE:
Don't miss your chance to get the second edition of the 2019 magazine, published to coincide with Easter Week
This special edition which focuses on Irish Unity, features articles by Pearse Doherty, Dr Thomas Paul and Martina Anderson.
Pearse sets out the argument for an United Ireland Economy whilst Pat Sheehan makes the case for a universally free all-island health service.
Other articles include, 'Ceist teanga in Éirinn Aontaithe', 'Getting to a new Ireland' and 'Ireland 1918-22: The people's revolution'.