2 March 2006 Edition
Interview: Keith Kelly of the Ballybrack 3
BY Aran Foley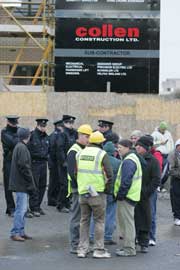 "Everything is geared towards the bosses"
The recent jailing of Keith Kelly, Billy McLurg and Andrew Clarke arising from a picket they had attended outside a Collen Construction site in Ballybrack, County Dublin again illustrates the one-sided nature of law and it's enforcement when it comes to workers rights and the bahaviour of employers in Ireland. The case is part of a wider aasualt on the right to union membership currently being pursued by Irish capital with the full connivance of the political establishment. Along with other recent industrial disputes it represents another blow to the viability of so-called social partnership.
On their release from prison last week An Phoblacht's ARAN FOLEY spoke to one of the Ballybrack Three, Keith Kelly.
"I only live about a hundred yards from the site. When I went there looking for a job a subcontractor, Jason Quinn, told me there would be no local or unionised labour employed on the site. The picket arose from that".
Keith Kelly alleged management at the Collen site was flagrantly in violation of the tax code through the bogus registering of employees as self employed in order to avoid paying PRSI, and that they are using bogus subcontractors to circumvate the Registered Employment Agreement and employ non-union labour. There has been zero response from the State to these accusations.
"There was another crowd in there, AMF, their ground workers. While we were picketing their management kept coming out to get shirty with us. We found out later that they're up before the Labour court for non compliance with .a pension fund".
There was a feeling of outrage amongst workers that bosses could so blatantly flout the law, safe in the knowledge that the state would refuse to take any action against them. In the case of picketing workers however, there is immediate and punitive action.
The three men received summonses to appear before court where their refusal to give an undertaking not to picket the site resulted in their jailing.
Pointing out the clear anti-union agenda of Collen and their sub contractors, Kelly told An Phoblacht how the company had specifically targeted union members and he alleged they had gone on to tell the most outrageous lies against them in court. "Out of a daily presence on the picket of about 20 the three they picked to summons were union members".
"They told blatant lies in court saying we had intimidated and threatened people. There is no way that is true. Our picket was always peaceful".
Kelly said his union BATU, had been fighting employers on the issue of non-union employment and this policy seemed to be on the rise. They were determined to continue their opposition to union-busting employers because "If you let one get away with it, they'll all try it.
"They're in bed with government officials. As far as I'm concerned it's a black and white issue- they're breaking the law and no one gives a damn. It's a disgrace. The first day I was in prison there was a report on the T.V that the Pensions Ombudsman estimated that 130,000 people were being left high and dry by their bosses not paying their pension contributions. It looks to me like these people are above the law".
"I'm determined to fight this though because if things go on like they are in ten years time my children won't be able to get a job anywhere".
"As far as I can make out everything is geared towards the bosses. If they break the law nothing happens but we .are jailed in a flash".