2 March 2006 Edition
Dáil debate: Labour and Fine Gael divided on workers rights
BY Aran Foley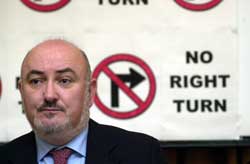 Fighting for workers' rights in the Dáil
Sinn Féin used it's Dáil private members' time last week to call for the establishment of a stand alone Department of Labour Affairs. The objective was to decouple the issue of workers' rights from trade and industry, which overrides the labour element of the brief every time.
The motion was supported by the Labour party but, crucially, was opposed by Fine Gael, once again illustrating the confusion at the heart of the putative Fine Gael/Labour coalition.
Failure of Fine Gael to support a motion aimed at protecting workers' rights should raise fundamental questions from Labour Party members in relation to Pat Rabbitte's policy of coalescing with the conservatives of Fine Gael.
So contemptuous of the whole issue was Fine Gael that having opposed it they didn't even bother to turn up for the vote knowing full well that their ideological bedfellows in Fianna Fáil and the PDs would do their work for them.
Caoimhghín Ó Caoláin TD noted that while Fine Gael TD John Perry supported the tone of the motion on behalf of Fine Gael, his party colleague Pat Breen stated Fine Gael could not support it. "Unfortunately, we did not have an opportunity this evening to hear which parts they object to - there are none of them present in the House. I am sure many of their prospective partners in the Labour Party would be interested, as would many trade unionists, not only listening to this debate but hopefully following the contributions subsequently, to know what were the parts with which Fine Gael was not happy. Why are its Deputies not in the House? Is it the case that when the vote is called they will be sitting on their hands on these issues regarding workers' rights, as they have done many times in the past?"
He dismissed assertions by Minister of State Tony Killeen that the Government had supported workers' rights. "The lack of commitment was evident during the Irish Ferries dispute in particular when the Government showed little interest in intervening to protect workers' rights.
"Tonight three men are in Mountjoy Prison for so-called contempt of court for picketing a building site. This is unacceptable. How many employers have served a day in jail for creating unsafe working conditions that have led directly to injury or death? We know the answer to this question is none at all."
Referring to the case of Joanne Delaney, sacked by Dunnes Stores for wearing a union pin, Sinn Féin's Martin Ferris asked whether this, "is part of their testing the water prior to further assaults on union members. If so, is Dunnes in fact planning to undermine union organisation as part of a plan to worsen wages and conditions and introduce what are fondly described as 'flexible working patterns'?
"That indeed has been the pattern in other disputes where companies have deliberately provoked their workforces in the hope that this will allow them to replace union members with workers on lower wages and weaker terms of employment.
That was clearly what was behind the Irish Ferries dispute and we had an even more blatant example with Doyle Concrete which disregarded Labour Court instructions and displaced an entire unionised workforce to take on non-national workers on lower wages and of course with no union membership. That company has now decided to close rather than obey the court.
"We have not seen the company's executives locked up in Mountjoy as workers are tonight. It is a disgrace that workers are locked up while employers such as Doyle Concrete can get away with it."
The private members motion was defeated but did highlight the issue of workers' rights and put on record Sinn Féin's demand for the enforcement and extension of such rights.