23 February 2006 Edition
Obituary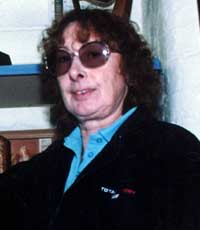 Eileen Haddock (nee Hickey)
Belfast republican Eileen Haddock (nee Hickey) recently died after a long and courageous battle against illness. Eileen came from one of those spinal Belfast republican families which in times of great danger and challenge helped organise and sustain the republican struggle.
In 1973 she was arrested and spent four-and-a-half years in prison. While there she was Armagh Women's Prison's first Republican OC (Officer Commanding). She formed the women prisoners into a coherent republican structure and was a determined spokesperson for them in negotiations and arguments with the prison administration. On her release in 1977, Eileen returned to republican activism. She was a stalwart, hard-working republican enormously respected by all who knew her.
She also returned to education and qualified as a teacher. Eileen recognised that there was a section of children and young people falling out of full time education in West Belfast. Some were being expelled, some just dropped out, and others were having real problems learning in the formal classroom environment. She began teaching in Fr Des Wilson's Springhill Project. In Springhill, and subsequently in Conway Mill when the school moved there, Eileen proved an effective teacher. She had a remarkable ability to motivate the young people she taught. She also was principally responsible for introducing exams into the curriculum for the youngsters.
Conway Mill is also renowned for its art and theatre activities and Eileen ensured that these were an integral part of the experience of the young people who attended her classes.
Eileen and her husband Johnny Haddock were very much part of the Seán O'Neill craft shop which provided local artists and designers an opportunity to showcase their work. And she was also very much involved in the 'Prisoners Day' exhibition held each August in the Felons' Club as part of Féile an Phobail. Eileen and several close friends and colleagues were very keen on opening a museum in the Mill that would reflect the story of republicanism in Belfast. They established the Irish Republican History Museum Committee and were given the An tSean Mhuillean Club in the Mill as the site for their museum. This has required much refurbishment and the gathering of artifacts from the 1940s and on.
Eileen published an excellent wee book, entitled Essays on Irish History through Verse the proceeds from which went to the Museum. In many ways all of this was entirely appropriate. Conway Mill was very much at the heart of events in 1969. In its shadow Catholic families were driven from their homes by loyalist mobs and the RUC and later, as Fr Des, Tom Cahill, Eileen and others tried to maximise the potential of Conway Mill to provide employment in West Belfast, it was one of the first projects to suffer political vetting by the British Government. In 2003 mural artists honoured those visionaries who in 1982 established Conway Mill and included on the mural, which can still be seen, is Eileen and Elsie Best.
Eileen was a dedicated republican activist and community leader who made a significant contribution to improving the quality of life of many of those she came into contact with, particularly the young people.
To her family and friends I want to extend on behalf of the entire republican community and the people of West Belfast our deepest sympathies and condolences.
I measc laochra na nGael go raibh sí.
BY GERRY ADAMS