23 February 2006 Edition
Sinn Féin Ard Fheis 2006 EDUCATION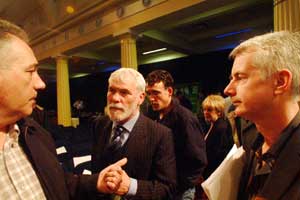 Ambitious plan for Irish
Educational inequality challenged
Two strong themes ran through the Ard Fheis debate on education. The first was a condemnation of the two-tier, discriminatory education systems in Ireland today, against a vision of education as a tool of liberation. The second was the initiation of an inspirational new cultural programme, for the re-conquest of Ireland through a campaign for the revival of the Irish Language.
Michael Ferguson, Six-County spokesperson for Education said that for too long education has been a mechanism for transferring privilege rather than creating equality. For too long it has been about marginalising and disqualifying the majority to the advantage of a minority."
Ferguson reviewed the recent education campaign in the Six Counties against budgetary cutbacks.
Seán Crowe TD spoke of the neglect of special needs and failure to address educational disadvantage. Class sizes have often deteriorated, so that now we have the second largest class sizes in the EU.
A number Ogra speakers spoke on the importance of secular education, and condemned the "rat race", where students are driven to chase points to get a career, but where there is little place for questioning where students are taught to accept the status quo.
Tina O'Shea from Kerry Ogra Sinn Féin spoke to a resolution which was unanimously passed by delegates, calling for basic sign language to be taught in all primary schools.
Séanna Walsh announced the restructuring of the party's Cultural Department to bring the language to the party. "Although knowing the Irish language does not make you more revolutionary, it is and needs to be a part of the way we live our lives." He referred to James Connolly, The Re-conquest of Ireland, to the writings of Bobby Sands, and to the commemorations this year of the Hunger Strike, all of which would be a part of this new initiative.
Seán O'Hamill, and Fearghal Enright spoke on the same theme, of transforming the party through a five-year action plan of which the 25th anniversary would be the launch, to build a radical political and cultural identity through the study of the language. Fearghal referred to the Basque struggle around the language, and the importance of this to their struggle for independence.
The Ard Fheis voted support for this project, recognising that "the suppression of the Irish language and culture was central to British policy of colonisation. Revival of the language and promotion of Irish culture must be a part of our project for the re-conquest of Ireland and the building of a new Ireland of Equals." Delegates committed the party to "rolling out a programme of Irish language acquisition at all levels and targeting every single department, cumann and office throughout the country", so that the party becomes a bilingual party.