23 February 2006 Edition
West Belfast rejects asbestos storage plant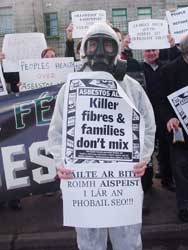 Over 100 anti-asbestos campaigners gathered outside the headquarters of the Grove Services Group (GSG) in Blackstaff Way last Wednesday 15 February to protest against the company's plans to build a storage plant for the deadly material in the heart of West Belfast.
The protest, organised by Upper Falls Sinn Féin Councillor Paul Maskey, was supported by the areas other Sinn Féin representatives, environmentalists, community groups and the families of people who have lost relatives to asbestos.
Maskey criticised GSG over it's plans to build the asbestos facility. He explained GSG had applied to the planning authorities to build the storage facility on the Kennedy Way industrial estate, even though it's own internal security assessment, carried out in 2004, admitted that there was a "high risk" of escape and ingestion of asbestos fibres due to the possible rupture of asbestos bags during carriage.
The report also acknowledged that asbestos fibres can escape while being carried to or from a vehicle or if a vehicle was involved in an accident or fire.
Maskey also accused the Department of the Environment (DOE) of riding roughshod over the wishes of residents and local politicians. He explained that Belfast City councillors voted against granting planning application for the asbestos facility but this was overturned by the DOE.
Meanwhile, in a statement from GSG's Managing Director Dougie Sloan claimed his firm would only be handling "low-grade asbestos" and that the company would not do anything that would endanger the health of their employees or the public. He denied allegations that his company is putting profit before the health of the West Belfast community saying "the plan to undertake this work was because the British Government has failed to provide adequate facilities elsewhere".