23 February 2006 Edition
Sinn Féin Ard Fheis 2006 ECONOMY
BY ROBBIE SMYTH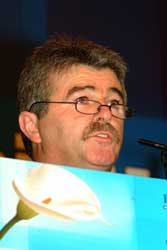 Enterprise document becomes policy
Media lies and economic truths
The Ard Fheis debate on the economy and natural resources was dominated by two themes - the launch of the new party enterprise policy, entitled A Strong Economy for an Ireland of Equals, and an address by Micheal ó Seighin, one of the Rossport 5.
Ard Chomhairle member and convenor of the party's Economic Policy Development group Caolfhionn Ní Dhonnabháin speaking in favour of the document told the hall that: "A lot has been written about Sinn Féin's economic policies, the majority of it untrue."
Ní Dhonnabháin said that: "When it was convenient, sections of the media alleged that Sinn Féin had no economic policies at all, when it suited their changed agenda they claimed that Sinn Féin had done a U-turn on our economic policies."
Sinn Féin should go on the offensive said Ní Dhonnabháin "against those who mischievously portray Sinn Féin as being economically illiterate". Sinn Féin, she said, "has a clear economic vision based on equality and wealth redistribution".
Sinn Féin TD and Enterprise and Employment spokesperson Arthur Morgan also called on the Ard Fheis to support the All-Ireland Enterprise and Job Creation Policy. Morgan said that this was the first component of Sinn Féin's rights-based economic policy and that there will be further policy documents on taxation and on trade.
Morgan said that the new document "sets out Sinn Féin's vision for a new all-Ireland economy, based on equality and social justice; a people-centred economy where everyone can have a dignified and productive working life, a fair income and a good quality of life - an economy which is characterised by the positive redistribution of resources to eradicate poverty and social exclusion.
Sinn Féin rejects according to Morgan "many mainstream market orthodoxies, including 'trickle down' theory, the correlation of low taxation and low wages with competitiveness, the belief that inward investment is the key to solving economic problems, and the oversimplified equation of growth with well-being and social progress.
On corporation tax, Morgan explained there was no "change of policy", rather an analysis that cutting corporation tax is not the best way to create a favourable enterprise environment.
It is also not sustainable said Morgan "to compete with other states by engaging in a race to the bottom on corporation tax if we want to maintain and enhance the desired levels of public services and infrastructure".
Morgan also said that: "Promoting innovation and Research and Development are priorities for Sinn Féin. We want to see greater investment in R&D, a greater spread of enterprise activity and the creation of an R&D innovation environment in the whole business sector throughout Ireland."
Changing the status quo
Sinn Féin General Secretary Mitchel McLaughlin called on the other political parties to set out their plans for the Irish economy. McLaughlin said that, "Sinn Féin doesn't want to join the status quo, it wants to change the status quo".
He also attacked the failures of Invest Northern Ireland saying that their annual report "shows a clear imbalance in the way resources are targeted".
McLaughlin said that: "The impact West of the Bann, in border areas and in North and West Belfast is especially stark with these communities suffering the worst effects of high deprivation and unemployment.
"North and West Belfast together received less than a third of the financial assistance given to South and East Belfast for 2003-'04 (£12.6 million compared to £41.5 million). The five constituencies of South Down, Newry/Armagh, Foyle, West Tyrone and Fermanagh/South Tyrone together received less assistance than South Belfast, one of the most affluent areas of the North.
"Invest NI is clearly failing in its duty to equality proof investment strategy and as a result the patterns of neglect, through unionist and British direct misrule are being reinforced. This pattern must be reversed."
Donal Coffee described how Sinn Féin had "pioneered a vision of a future all-Ireland economy". He attacked Dermot Ahern on his plans for including the common chapter proposals in the new 26-County National Development plan. "Sinn Féin should oppose and public private partnerships designed by Fianna Fáil to help their buddies in the building industry."
Aengus Ó Snodaigh TD called for the abolition of IMF-imposed Structural Adjustment Programmes. Ó Snodaigh also spoke about "odious debt", meaning loans to prop up compliant dictators and amounting to about one-fifth of developing world debt. O Snodaigh said that: "The British Government, has been actively lending to dictators. For example, Britain made massive loans to Nigeria during the era of military dictatorship, to Sudan despite decades of government repression there resulting in famine, and to Algeria after the government there annulled democratic elections."
He said it was unjust that countries freed from a despotic power assume the "odious" debts, which are personal debts of that power.
Vincent Wood from Galway Sinn Féin speaking on the natural resources motions said that: " We need to send a clear message to Shell and their fellow travellers."
Micheal Ó Seighin, one of the Rossport 5 addressed the Ard Fheis to a standing ovation. He told the delegates that in the midst of the crisis of their imprisonment the five understood the importance of family and communities. The Sinn Féin community was, he said, not found wanting.
Ó Seighin said that: "Although we stood our ground on the safety issues, the attack on us was the logical outcome of the permanent giveaway of our oil and gas resources." It was, he said, to sustained applause, "the modern version of croppy lie down and we are not lying down".
Finishing up to another ovation Ó Seighin said that, "The battle for Rossport is not over."