23 February 2006 Edition
Sinn Féin Ard Fheis 2006 HEALTH
BY Aran Foley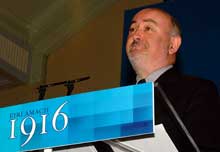 Comprehensive health policy adopted
Government reinforcing unequal, inefficient, two-tier health system
In a significant development the Ard Fheis adopted a comprehensive health policy document, Healthcare in an Ireland of Equals, outlining Sinn Féin's vision of a health service based on need and not wealth and which is free on point of delivery.
Caoimhghín Ó Caoláin TD, the party's Dáil spokesperson on health said it was "both a programme for change and a call to action. It is a campaigning document and we will be bringing it to communities the length and breadth of this island as we demand the right to healthcare in an Ireland of Equals.
"In the Dáil recently my colleague Seán Crowe TD highlighted the case of two people in Tallaght Hospital - one who spent eight days and nights on a trolley and the other who spent seven days and nights. That is a shame and a disgrace in one of the wealthiest economies in the world.
"Bertie Ahern and Mary Harney are reinforcing the grossly unequal, unfair and inefficient two-tier, public-private health system in this State."
He went on to slam taxbreaks for private operators in the health service saying:
"Bertie Ahern and Mary Harney are reinforcing the grossly unequal, unfair and inefficient two-tier, public-private health system in this State."
John O'Dowd also urged support for the document, saying that continuing inequalities in health were an indictment of the state.
David Cullinane from Waterford said it was a disgrace that on the 90th anniversary of 1916 both partition and social inequality had yet to be dealt with. What was needed was democratic accountability. Citing the fact that Neurology services were only available in Dublin, Cork and Galway, he said Mary Harney should hang her head in shame.
Joanne Corcoran, Sinn Féin Dublin Mid-West representative called for the immediate introduction of free and efficient cervical smear testing as the only effective approach to the issue of cervical cancer. At the moment it cost in excess of €70 and involved a waiting time of months.
Kerry General Hospital
Mayor of Kerry Toiréasa Ferris called for Mary Harney to deliver on her broken promise to provide effective breast cancer screening. This was literally a matter of life and death as studies had shown that early detection was essential in the successful treatment of the disease. She also called for a full time consultant cardiologist for Kerry General Hospital. It was a disgrace that Kerry with a population of 130,000 still had not got one.
Ferris also spoke on motions condemning underfunding for the Galway Rape Crisis Centre and on the lack of a sexual assault unit for Kerry General Hospital calling on the Government to train and employ sexual assault nurses across the 26 Counties. All motions were passed.
Meath County Councillor Joe Reilly spoke on a motion calling on the Health Services Executive to commit to upgrading the Accident and Emergency and Paediatric Services at Monaghan General Hospital. Mary Harney sought to devolve her responsibilities to the HSE and the latter's practice of cutting hospitals' budgets for failing efficiency test amounted to penalising patients for problems in the health service. The motion was passed.
Pádraig Mac Loughlin from Buncrana called for he whole Northwestern region to be treated as one health care area on an all-Ireland basis. It was time for a health service that cherished all of the nation's children equally.
Pat Treanor, Monaghan spoke on the need to break the power of the College of Surgeons. He said their insistence that a hospital needed a population of 200,000 to support it misunderstood the concept of a health service and was denying local communities such as his a proper level of health care.
Suicide
Kathy Staunton from North Belfast spoke of the pressing need for a holistic and all-Ireland approach to the tragic issue of suicide. For the year 2003-'04 557 people had been officially reported as suicide. This did not take into account unreported suicide and made it the biggest killer of young people in Ireland. She reminded delegates that Ogra Shinn Féin had recently launched a national suicide prevention campaign and urged delegates to support it. Motions were passed
Frances McCole, Dublin North Central, spoke against the increased privatisation in the health service and in favour of Sinn Féin committing to more public resources in the service saying that the state of A&E services was distressing. The governments policy of tax breaks to private operators were resulting in hospitals such as Sandyford where no one with a Medical Card was welcome.
McCole also endorsed the relatives of the Stardust victims in their quest for justice. The fire occurred in the heart of her constituency and the relatives had waited to long for justice.
Roisín Bhreatnach, Mayo, spoke of the need to utilise all available technology to maximise the quality of health care and advice available in isolated rural communities. She said Mary Harney should try telling the 85-year-old woman on the hospital trolley that she had never had it so good.
Aengus O Snódaigh TD opposed a motion on enforcement of mandatory sentencing for drugs offences saying that evidence from abroad, particularly the US showed it doesn't work. An amended version of the motion was passed calling on sentencing to reflect the severity of this type of crime, noting that the Council of Europe had declared drug use in Ireland as particularly high and also regretting the departure of Fergus McCabe as the head of the National Drugs Forum.
Rose Dugdale concluded the debate applauding Sinn Féin representatives and party members' efforts to build all-Ireland campaigns. She said we did not seek power for it's own sake but rather sought to empower the people. Sinn Féin was out to break the arrogance of power so that rights would no longer be conditional on the generosity of the market place.
For more see http://www.ardfheis.com/news/765