23 February 2006 Edition
Sinn Féin Ard Fheis 2006 PRESIDENTIAL ADDRESS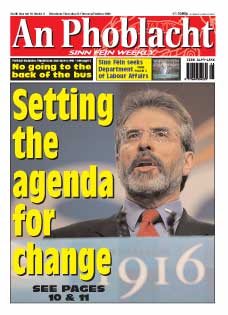 Adams outlines five strategic challenges for Sinn Féin
"We are serious about making change"
The following is an executive summary of Presidential Address by Gerry Adams to the Sinn Féin Ard Fheis
For full address go to www.ardfheis.com/news/772
I believe there now exists for the first time since partition an opportunity for all political parties which espouse Irish unity, and democrats generally, to build a broad movement to debate and plan the type of Ireland we want to live in. An agreed political strategy to deliver unity and independence is required - a strategy which addresses the concerns of unionists but which also carries forward the necessary work of making partition history.
Sinn Féin is about gaining political power. We are serious about making change. This weekend Sinn Féin has published three major policy documents on enterprise and job creation, all-Ireland healthcare and Irish re-unification. We are serious about implementing these policies, North and South. This is about the core values of Irish society.
We will be in a power-sharing government in the North once again. And if we have the mandate and if we can secure an inter-party government and a programme for government which is consistent with our republican objectives, we will look at being in government in the South.
But we have no interest in any of these positions for the sake of it. Or for Ministerial perks or to make up the numbers. Others have shown themselves more than suited to this task.
Our sole purpose of going into government is to bring about the maximum amount of change. We will never meekly serve our time. Our objective is an all-Ireland parliament for all of the people of Ireland.
Five great strategic challenges
This evening I want to set out the five great strategic challenges facing Sinn Féin.
First and foremost we must concentrate our efforts on the current negotiations. Our task is to advance the Peace Process and ensure that the Good Friday Agreement is implemented in full. Included within this will be the deeply problematic issue of policing in the North.
Another great challenge is the need to develop an entirely new relationship with unionism. Our engagement with unionism must deepen and broaden in the time ahead. This is a major challenge for this party and I would urge everyone, every activist to take up this challenge personally.
The third great challenge facing this party is to build support for Irish unity in Britain.
There is a potential to create in Britain a solidarity movement similar to that in the USA.
Another great challenge will be to build an Ireland of equals. We want to advance the all-Ireland agenda, to make partition history and to campaign for an Ireland of equals. Our task, like that of all other progressive forces in Ireland, is to actively change Ireland, day by day, based on the republican principles of equality, liberty and solidarity.
Our fifth strategic task is to build Sinn Féin. There are more republicans in Ireland today than at any time in our history. There are many more republicans on this island than there are members of Sinn Féin. I want to call on you to join Sinn Féin, to help us to push forward with our agenda for change. I especially want to open up our party and our leadership to women. We need more women involved in our decision making processes.
Historic IRA decisions
It is over ten years since the historic decision by the IRA to call a cessation of military activity. Last year, in some respects, saw an even more momentous decision with the IRA's decision to formally end its armed campaign and put its weapons beyond use.
I want to commend the courageous and confident vision of the Volunteers of the IRA.
But if republicans are to prevail, if the Peace Process is to be successfully concluded and Irish sovereignty and re-unification secured, then we have to set the agenda - no one else is going to do that.
The decisions by the IRA were undoubtedly deeply difficult for many. There are republicans still trying to come to terms with it many months later.
Indeed undoubtedly there are some who believe that the IRA has made a mistake. They are entitled to their opinion but to no more than that. No one should harbour the notion that the republican struggle can be advanced any further by an armed campaign. This leadership is firmly opposed to such a departure.
The Peace Process
So, the months ahead are critical.
I have made it clear from the republican perspective - the war is over. But, unfortunately, powerful elements within the British system have both a war mentality and the resources to sustain this. For them the Peace Process is war by other means.
We have told the British Prime Minister that this is not acceptable. The British Government has a responsibility to dismantle its war machine, to decommission its spy rings and spy masters and to take its troops out of Ireland.
History will not be kind to any government, whether it is the PD/Fianna Fáil Coalition here in Dublin or the one led by Mr Blair in London, if it puts party political considerations above the Peace Process.
There is no possible excuse for the British and Irish Governments not to fully and faithfully implement the Good Friday Agreement.
This means the Irish Government actively promoting the rights and entitlements of all citizens, including those in the North. The Taoiseach's decision this week to renege on his commitment to proceed with northern representation in the Oireachtas is not acceptable.
There is sufficient support for this within the Dáil - if the Fianna Fáil party truly supports the participation of northern MPs - nationalist and unionist. Rhetorical words about 1916 and the Republic need to be backed up by action.
I want to direct some remarks to other republicans, to those who are frequently labelled by the media as 'dissidents'.
Obviously there are fundamental differences between us but all republicans and nationalists want a united Ireland, an end to British Government involvement in Irish affairs, the release of all political prisoners, and an end to the harassment of the families of prisoners in Irish and English prisons, and much more.
I am asking that you look objectively at the current political situation. I am asking that you carefully consider your options. And I am calling upon you to debate these matters.
The future of the Good Friday Agreement
The current phase of the political talks will decide the future of the Good Friday Agreement. I have to say I have huge reservations about how the two governments are approaching these talks. At this time they are pandering to the DUP.
Sinn Féin will listen attentively and respectfully to everyone's ideas. But the main objective of these talks has to be to end the suspension of the political institutions within a short time-frame.
The Sinn Féin leadership has told both governments, and I have told both Mr Ahern and Mr Blair directly, that there can be no dilution of the Good Friday Agreement to allow for a two-tier or two stages approach or British appointed Commissioners, to run the North.
British direct rule is also not an option. So, the focus of our negotiators in the weeks ahead is straightforward:
An end to the undemocratic suspension of the institutions;
The triggering of the mechanism for electing the Executive;
Delivery on outstanding aspects of the Agreement;
The conclusion of the debate on policing on the basis set out in December 2004.
And the delivery of a peace dividend for the North and border counties.
In other words we look to both governments to honour their commitments, publicly made and thus far unfulfilled. That is our agenda for the talks.
Unionism
I said that we face five strategic challenges. One of these relates to our relationship with unionism. Partition has failed. It has failed the people in the South. It has failed nationalists in the North. It has failed the very community it was designed to safeguard. It has failed unionists.
Even within their own rationale partition has no economic merit. On the contrary all economic advantage lies in Ireland as a single island economy.
No unionist leader can believe that British direct rule is benign. A terrible price is being paid in all of our communities in the North as a result of British Direct Rule.
The best people to make decisions about the lives of people in the North are people who live there.
So there are challenges for unionism and questions they need to answer.
I have a question for Ian Paisley - are you ready to begin the process of building a shared future?
Change will continue. And the best option for unionists and the rest of us is to collectively manage the changes that are coming.
Regardless of the disposition of the DUP, republicans need to engage with unionist communities.
It is within our collective ability to resolve problems. For example, the annual crisis caused by the small number of contentious loyal order parades must be sorted out. This requires positive political leadership and meaningful dialogue based on equality and mutual respect. Sinn Féin has consistently supported such an approach.
We now must deepen our engagement, our understanding of unionism if we are to have partners in conflict resolution. The imperative of conflict resolution begs another question of Ian Paisley - Ian, is your war over?
Irish language
Sinn Féin is in the business of promoting the use and status of the Irish language.
Promote and develop activities to bring life to the Language Act in the South.
Campaign on and support the demand for an Irish Language Act for the Six Counties.
Defend the status of Irish in the southern education system - teaching methods do need to be improved and modernised. But any move to sideline Irish should be opposed. Irish should remain at the core of our education system as a living, spoken language.
Migrant Workers
The fact is that there has been a gradual EU-wide drive to erode the conditions in which workers are employed.
The EU Services Directive would allow private companies to undercut public service providers by employing people on the salaries of their country of origin. Amendments adopted in the European Parliament this week were deceptive - the country of origin principle may have been renamed, but it remains at the heart of the directive.
This would open migrant workers up to even greater levels of exploitation, with no protection, while creating the real prospect of indigenous workers being displaced by migrant workers.
Sinn Féin welcomes new communities of all nationalities to our country. We reject racism and discrimination in any form. It is good that many people are coming here to work. Immigrant workers are not the problem. The problem is unscrupulous employers who exploit immigrant workers with low pay and poor conditions.
Unlike the Labour Party leader, Sinn Féin will not embrace populist policies which risk setting one group of workers in the existing workforce, against another group of migrant workers.
You don't have to be an expert on labour law to know that if Irish and migrant workers have the same pay and conditions of employment that this removes any financial benefit for unscrupulous employers who might otherwise seek to displace their existing work force. That's common sense.
A Fair Taxation system
The reality is that our people do not have to choose between being economically successful and building a more equal and successful society. We can do both.
The well being of a state cannot be measured only by how much wealth it produces. The real test is in how that wealth is used for the benefit of citizens.
In 2005 - the two major banks in this country AIB and Bank of Ireland made profits of almost 2.8 billion euros - and are liable for corporation tax at only 12.5%.
These banks are not even the worst cases. Of the top 100 individual earners in the South in 2005, 41 of them paid less than 5% income tax.
Meanwhile, ordinary working people start paying tax at 42% on anything over €29,400 last year.
Sinn Féin would effectively tax high earners. Sinn Féin would increase taxes on capital gains, property speculation and corporate profits.
Of course, our policies will be attacked by those who have mismanaged the boom years of the Celtic Tiger. Expect more attacks on Sinn Féin including totally unprincipled efforts to vilify us in the time ahead. Don't be distracted by this nonsense. What we need to do is promote our own agenda and our own record.