26 January 2006 Edition
Nuacht na nOibrithe - Sacked for standing by her union
BY Justin Moran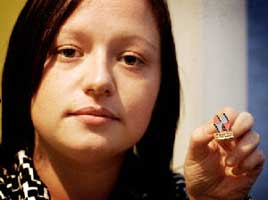 International pressure is being brought to bear on Dunnes Stores following the sacking of a 22-year-old Mandate Shop Steward from the Dunnes' outlet in Crumlin last November for wearing her union badge.
Joanne Delaney had been employed at the Ashleaf store in Crumlin for over four years. Adding insult to injury Dunnes' management refused to meet with Joanne prior to her dismissal if she chose to be accompanied by her union representative.
The LabourStart trade union website (www.labourstart.org) reports an overwhelming response to an email campaign in support of Joanne with over 2,000 emails flooding Dunnes Stores' Head Office in the first 24 hours of the campaign. The dispute has also been raised in the Westminster Parliament by Labour MPs and in the Scottish Assembly by Colin Fox MSP of the Scottish Socialist Party.
Former Dunnes Stores Director Ben Dunne criticised the actions of the present Dunnes Stores management during an interview on RTÉ radio on Wednesday morning.
Speaking to An Phoblacht Brendan Archibold of Mandate said: "We are delighted the campaign has received such support and that motions are being put in Scotland and England and will be raised this week in Leinster House. Trade unionists throughout the world have been genuinely horrified by the sheer savagery of this decision by Dunnes Stores' management and they have responded in huge numbers to express their disgust. Little has changed in Dunnes' approach to workers since the anti-Apartheid strike in the '80s."
Frank Dunne, a Director of Dunnes Stores, can be contacted at [email protected]
SIPTU recruits 15,000 foreign national members
SIPTU announced this week it has recruited 15,000 new members among foreign nationals working in Ireland, mostly in the construction and services sectors. The announcement came following reports in the media on attitudes to migrant workers and also on the working conditions of foreign domestic workers.
SIPTU General Secretary Joe O'Flynn said: "These reports confirm the experiences of many of the workers with whom we have been in contact, and the work of our own research department which shows that not alone are wage rates not keeping pace with increases due under Sustaining Progress, but they are actually falling in some sectors such as food products, office machinery and computers.
"These trends highlight the necessity for measures to combat job displacement and exploitation. That is why SIPTU placed such an emphasis on such measures as a precondition to talks on a new national agreement. If we are to enter new national pay talks, and that has still to be decided, these issues must be addressed effectively."
Ferris backs nurses at Kerry General
Sinn Féin TD for Kerry North Martin Ferris has assured nursing staff at Kerry General Hospital of Sinn Féin's full support following a vote in favour of industrial action. The Irish Nurses Organisation (INO) is to meet with management at the hospital this week.
"Nobody will be surprised by today's overwhelming decision by Nurses at Kerry General to vote in favour of industrial action. Nobody wants to see industrial action take place at the hospital, however, people will only put up with so much. The Nursing staff at Kerry General Hospital has my and my party's full support," Ferris said.
"I think the people of Kerry will be overwhelmingly in support of the Nurses and their demands for extra staff and resources for Kerry General. I am again calling on the Tánaiste and Minister for Health Mary Harney to intervene and ensure that more nurses are allocated to Kerry," he said.
The INO, representing 380 of 400 nurses at the hospital, claims that at least another 80 nurses are needed and the shortage is putting patients and staff at risk. The ballot for industrial action received over 90% support from workers, angered by unfounded suggestions from the Health Service Executive that the problem was absenteeism.