26 January 2006 Edition
Interview - 'Roller coaster' campaign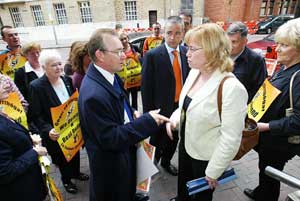 With Sinn Féin activists gathered in Derry to evaluate and develop the party's campaign around education in the North, An Phoblacht took the opportunity to talk to West Belfast MLA and Education spokesperson Michael Ferguson.
"It's been an exciting six months," Ferguson says. "Sinn Féin's advisory forum was established last July and it's been a roller coaster of campaigning ever since."
Against a backdrop of historic British under-funding of education, the Six Counties faced budget cuts last year across all five education boards.
Initially British Ministers attempted to deny there had been any cuts in the education budget.
"The British Government tried to portray a slight increase in core funding while slashing secondary funding as an over all increase," Ferguson says. "It was nothing more than a bureaucratic sleight of hand and the impact of real budgetary cuts were immediately obvious in schools across the North."
At a seminar in Gulladuff, South Derry last summer, Sinn Féin activists began to work on the party's response. In April 2005 political representatives from a range of parties withdrew from Education and Library Boards in protest (the Boards are the regional administration mechanism tasked with implementing British Government funding cuts).
"Walking out in protest had an immediate visual impact which was picked up by the media," Ferguson says. "It alerted the public to the fact that cuts in education were an issue and highlighted local opposition. The drawback is that those who walked out were then on the outside looking in.
"Sinn Féin decided to pursue a policy of critical engagement with the Education Boards. We would oppose further cuts and challenge cuts already in place without leaving the field open for others to withdraw services in our absence."
Ferguson says the main concern was the possibility of the Education and Library Boards implementing cuts in private by going into committee.
"We met with the board's chief executives and made it clear Sinn Féin would expose any attempt to move into committee and publicly challenge any political representative or non-elected member attempting to implement cuts in private," Ferguson says.
Cuts on the ground
Sinn Féin then set about contacting schools across the North highlighting the party's opposition to cuts in education and offering support in challenging any loss of services.
"We also asked each school how loss of funding and services were specifically affecting their delivery of education. We found schools in West Belfast that had lost 82 teaching and non-teaching staff within three months. St Colm's High School in Twinbrook lost 60% of its youth services. In Polegass, St Kieran's Primary had lost all its music tuition. According to the teaching unions there have been over 500 teachers made redundant in the last two years."
Sinn Féin found that a further loss of hundreds of classroom assistants had left many schools with the responsibility of providing for pupils with special needs without the resources to deliver it.
Sinn Féin joined trade union campaigns by NIPSA and UNISON by participating in protests against the assault on staffing levels.
"While we were happy to support pickets and days of action by the teaching unions, Sinn Féin had a much wider remit campaigning not only on behalf of staff but also for the rights of parents and pupils," Ferguson says.
In September the party staged its own Day of Action on the first day back to school after the summer vacation. Parents were asked to sign a petition demanding a real budget to support education and learning while children arriving to school were given stickers to highlight the campaign.
Then, Sinn Féin held protests in key areas throughout the Six Counties while MLAs marched from the steps of Stormont to Castle Buildings, where they handed in a letter of protest and audit of cuts in service to British Education Minister Angela Smith.
While regions across the Six Counties were being affected by loss of staff, in rural areas the impact was also being experienced in cuts in school transport. Across rural areas like Loughbrickland, Kilkeel and Forkhill school transport was axed.
"School transport for special needs children was also cut," Ferguson says. "An autistic child forced to use public transport became so distressed his family had to bring him home as soon as he arrived at school. The unfamiliar routine had caused the child to soil himself during the journey.
Sinn Féin raised its concerns with the Children's Commissioner Nigel Williams, the Children's Law Centre and other agencies with a statutory obligation to children and their welfare.
On the ground the campaign around school transport brought school principals from all sectors, and parents and children across the political and religious divides, under one banner.
Sinn Féin Mayor for Newry and Mourne Pat McGinn met the chief executive of the regional board to demand the reinstatement of the school transport service.
Meanwhile, Sinn Féin elected representatives to the Southern Education Board, the regional board with responsibility for the areas most affected by the wholesale loss of school transport, met with parent representatives on the board.
"Sinn Féin and the parents representatives agreed to support a motion calling for a reinstatement of school bus services. We were determined to be user friendly and not put party interests above the campaign.
The Southern Board's decision to suddenly cut all school transport was not only inflicting real hardship, it was blatantly irrational. The service was withdrawn, but because of outstanding contractual agreements it was still being financed.
"The service providers were being paid while buses sat idle in the depot," Ferguson says. "Children were being put at risk going to and from school and not one penny was being saved."
Yet despite this, unionist members of the board twice voted against a motion calling for the transport service to be reinstated.
"Parents and teachers from a unionist background were shocked and dismayed by the initial response of their elected representatives but eventually they were able to exert sufficient political pressure to bring unionists on board," according to Ferguson.
But despite making headway within unionism, the motion was defeated for a third time in December by the casting vote of a non-elected board member, a Tyrone parish priest.
Once the reality of cuts had been publicly established, British Ministers blamed too much local bureaucracy for service cuts although in fact administrative expenditure by local boards only amounts to around 2% of the overall budget.
British Ministers responded by claiming that the budget hadn't been cut so much as readjusted in line with falling numbers of pupils. Sinn Féin pointed out that, although the North is experiencing falling rolls, the sudden and apparently arbitrary nature of the cuts bore no relation to the kind of rational and gradual realignment of resources that should accompany changes in the pupil population.
Six months of learning
Ferguson says he has learnt much over the last six months. "Sinn Féin's vision, both in terms of education and the wider political agenda for progressive change makes it best placed to set the pace when it comes to campaigning," he says.
"We also discovered that you don't have to go through unionist political representation to have an impact on the unionist community. The idea of Sinn Féin heading a delegation of parents' representatives from a Protestant/unionist background to confront British Ministers would have been unthinkable a few years ago, but that is exactly what we did."
At a time when education could play a crucial role in securing a better future for all our communities, the British Government appears intent on eroding existing services in the interests of the British exchequer.
"Sinn Féin's vision of 'Educate that you may be Free' puts education at the heart of our political project and the current peace process." The campaign continues.