12 January 2006 Edition
Mála Poist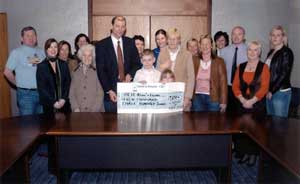 Thank you
A Chara,
We, the family of Marie Wright, would like to thank everyone who contributed in any way to the fundraising event in the Felons' Club last year, particularly the club's management and staff, who ensured the night was a great success. We want to thank those who donated prizes for the ballots or made financial donations, especially Malloy's fuels, who generously donated 500 litres of heating oil, Coopers Chemist, Elsie Best at Conway Mill, Dominic Marley, Teresa McCrisken, Collins Furniture Shop, Halo, Fancy Fare, Upper Cuts, Annie Cahill, Harry Thompson, Brendy Mac, The Living Room, JJ Magee and Solanna, Joan and Michael, Gary McGuigan, Flowers Are Us and The Flower Bay.
We would like to thank the ticket sellers, those who looked after the door and sold the ballots, and to add a special thanks to Maura and all at the Falls Women Centre for their lovely tributes to Marie and to all of Marie's friends and wider family whose presence made the night so special.
We want to thank the McCool family who raised £250 and Chris who ran the London Marathon to raise funds.
Finally there has to be a special thank you to Leo and Maggie who so kindly adopted little Leo and returned him to his native town!
A total of £7,300 was raised and has now been donated to Ward 10 North of Belfast City Hospital, were Marie was treated with such dignity and respect during her illness.
It was Marie's own wish to thank all those people who cared for her, especially after her stay in intensive care and we are proud to have done it on her behalf.
Go raibh maith agaibh,
The Wright Family.
One Big Embarrassment?
A Chara,
I see the SDLP are once again at odds with each other over the acceptance of an OBE from the British Queen.
I don't see what all the fuss is about. Hasn't the SDLP been swearing oaths of allegiance to her for years?
Lee McMahon,
Ógra Shinn Féin.
Drop compulsory Irish
A Chara,
Loath as I am to make a reference to Fine Gael, and fully aware that I am inviting the wrath of some on my head, I must stand in agreement with Enda Kenny's proposition to remove compulsory status from Irish in our secondary schools.
As a teenager, I studied French and Irish with the Brothers. French was taught in a conversational manner — if I went to France now I could easily get from the airport to my hotel. I could organise a restaurant, order a meal and pay, all in French.
If I was dropped into a Gaeltacht area tomorrow, I would struggle to ask where I could get the bus home from.
Irish is not presented to our students as it should be. From what I can recall, the memorising of great chunks of text was the beginning and end of the Irish syllabus. The fact that this was a subject that was forced on us only added to the general resentment felt by myself and my fellow classmates.
Had we been able to choose Irish as language, and perhaps simultaneously, a cultural class delving into traditional music, legend and literature, those of us serious about learning Gaeilge might have stood a chance.
The problematic Leaving Certificate is being addressed next year. Why not use the occasion to look at Irish?
Don't let Fine Gael be the progressive party on this issue.
Daithí McConnell,
Mayo.
Wicklow deserves better
A Chara,
Tom Parlon's "advice" to the public that residents of flood-prone areas should shun expensive flooring is vapid, arrogant nonsense. Coming from the OPW this is the equivalent of saying, 'Let them eat cake'. What are people in Seapoint, Little Bray, Coburg and other low-lying areas around the county supposed to do? What do old age pensioners do? Rip up their carpets? What about people in Bungalows? Perhaps they should run outside and do a rain dance. Maybe they could put their houses up on stilts or run around like headless chickens looking for a dyke to poke their fingers in to.
All this came during a public awareness campaign by the junior minister about flood danger. The only thing the public is aware of now is what an eejit Tom Parlon is. He is a member of a tiny, extreme, right-wing party that has slithered into government. Run by the terminally useless (Mary Harney) and clinically insane (Michael McDowell), the PDs celebrate inequality, denigrate the Irish language and culture, and hobble the Peace Process at every turn. And when given the chance to govern, all they do is expose themselves to be completely incompetent.
What is more worrisome is that a more senior member of this Coalition of D'Unbelievables, Dick Roche of Bray, is Minister of the Environment. He has yet to approve any funds for flood relief in his own town.
Wicklow deserves better representation. Senior members of government have to be able to govern effectively. Roche should publicly reprimand that fool Parlon, and he should act quickly to enact flood control measures in Wicklow.
There is a €2 billion plan to build on the flood plain in Bray. The green area adjacent to the Dargle River should be preserved as a floodplain and buffer against flooding. The development plan already has green spaces. "They should be in the low-lying areas beside the river the way nature intended. It would be a great deal more effective than telling people across the way in Seapoint to rip up their carpets or hardwood floors.
Councillor John Brady,
Sinn Féin,
Wicklow.