12 January 2006 Edition
Rabbitte's right turn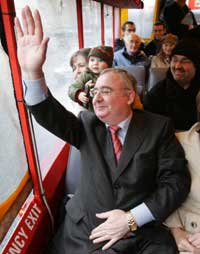 Labour leader's opportunism appeals to basest instincts
Caoilfhionn Ní Dhonnabháin questions the timing and motivation of comments by the leader of the 26-County Labour Party which effectively blame vulnerable migrant workers for the problems of displacement and take the spotlight off unscrupulous employers
Labour Party Leader, and aspirant Fine Gael coalition partner, Pat Rabbitte gave an interview to the Irish Times on 3 January in which, among other indications of a continuing rightward shift by his party, he said that in light of the increasing displacement of workers: "The time may be coming when we will have to sit down and examine whether we would have to look at whether a work permits regime ought to be implemented in terms of some of this non-national labour, even for countries in the European Union." He went on to say: "There are 40 million or so Poles after all, so it is an issue we have to have a look at."
Sinn Féin spokesperson on Employment and Workers Rights, Arthur Morgan TD described the comments as "bizarre and disturbing. By his comments on immigrants and workers' rights, whether by design or accident, Pat Rabbitte has managed, in one fell swoop to shift the blame for the Irish Ferries debacle and the continuing problems of worker displacement, away from the policies of the government and the employers and on to the heads of immigrant workers from both within and outside the EU. This is a disgraceful and retrograde step for any leader of a so-called left-wing party and smacks of political opportunism and of appealing to the basest of instincts."
The question has to be asked as to why Pat Rabbitte chose to make these comments. There is a very convincing argument that his motivation was to boost the Labour party's flagging fortunes by appealing to the anti-migrant lobby.
There is something extraordinary about the fact that a representative of the Labour Party should make these comments and that they would then be supported by the leader of SIPTU. At a time, in the aftermath of the Irish Ferries situation, when the general public was rightly putting the blame for displacement of existing workforces on employers motivated by corporate greed, Rabbitte has managed to put the blame back on the migrant workers, take the spotlight from unscrupulous employers and potentially set one group of workers and against another. This is at variance with the core trade union principal of solidarity between workers.
Pat Rabbitte presented no analysis of how the 26-County state has got to where it is, with an economy characterised by an assault on workers' rights, a weak Trade Union Movement, an obsession with economic growth and increases in GDP, rampant individualism and consumerism and the hero worshipping of people such as Michael O'Leary who have made their name from attacking workers' rights, including the right to join a union.
Exploitation and displacement have not developed out of the blue. They are the by products of polices pursued at EU and state level which have promoted market liberalisation and workforce flexibility. The Labour Party, unlike Sinn Féin, has failed to provide a critique of the direction being taken by the EU which has contributed to bringing us to where we are.
The weakness of the Trade Union Movement is another key factor enabling employers to pursue policies of displacement and the government to ignore what is going on. The Trade Union Movement over the years of social partnership has allowed its own hands to be tied in terms of its ability to strike in defence of workers rights. Why is Pat Rabbitte not seeking to remove these restrictions and allow workers to defend themselves in the face of displacement and exploitation?
What we need to do is address the reasons why employers seek to displace existing workers and replace them with migrant workers. We need to concentrate on legislation and regulating standards, including pay and working conditions, of employment and enforcing these to prevent the exploitation of vulnerable workers for profit. We need to ensure that migrant workers are not being discriminated against and exploited. We need to ensure that Irish and migrant workers have the exact same pay and conditions of employment and therefore ensure that there is no financial benefit for unscrupulous employers of displacing their existing workforce. We need to concentrate on the issue of equal pay and rights for all workers and the promotion of solidarity between Irish and migrant workers which is key to preventing the current drive towards lower wages and diminished work conditions which in the long term will have determinate consequences for all workers.
Ensuring equivalence of rights between Irish and migrant workers and eliminating the ability of employers to exploit migrant workers by paying them lower wages and subjecting them to longer working hours (a central factor which incentivises employers to displace existing workforces) are key steps which the government must take to prevent the development of such tensions.
The Trade Union Movement must play a constructive role in promoting solidarity between Irish and migrant workers. It must increase its efforts to block the undercutting of trade union rates of pay and ensure the unionisation of migrant workers in order to achieve this objective. The trade unions and those committed to preventing the displacement of workers must join together to bring about the removal of the legislative restriction which prevent the trade unions from acting in the interest of workers.
An Phoblacht Magazine
AN PHOBLACHT MAGAZINE:
Don't miss your chance to get the second edition of the 2019 magazine, published to coincide with Easter Week
This special edition which focuses on Irish Unity, features articles by Pearse Doherty, Dr Thomas Paul and Martina Anderson.
Pearse sets out the argument for an United Ireland Economy whilst Pat Sheehan makes the case for a universally free all-island health service.
Other articles include, 'Ceist teanga in Éirinn Aontaithe', 'Getting to a new Ireland' and 'Ireland 1918-22: The people's revolution'.