5 January 2006 Edition
Adams demands end to political policing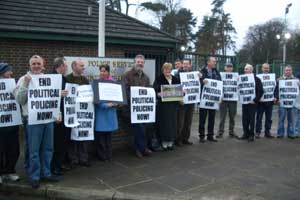 Sinn Féin held a series of pickets in Belfast, Dublin, Derry and Cork on 22 December to highlight the ongoing issue of political policing.
Speaking outside PSNI Headquarters at Knock Sinn Féin President Gerry Adams said:
"Yesterday I spoke to the British Prime Minister Tony Blair and told him that at the core of the current crisis is an element of the British policing and intelligence system which vehemently opposes the Peace Process and the Good Friday Agreement. Their actions were responsible for the collapse of the democratically-elected government in October 2002.
"Mr Blair bears the sole responsibility for tackling this problem.
"Ending political policing and the negative activities of British agencies is his responsibility.
"As we face into the New Year and another attempt to put the political institutions together, these same forces will be working to undo our collective efforts. In order to stop them Mr Blair must end political policing."