5 January 2006 Edition
Interview - David and Goliath - Men of the West leave Shell shocked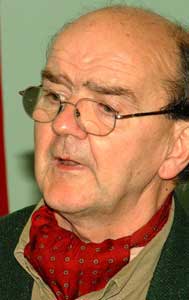 The Rossport 5's Mícheál O Seighin
One of the major news stories of 2005 was the struggle of people in Mayo against oil giant Shell's plans to build a dangerous pipeline through their lands. Mícheál Ó Seighin, Willie Corduff, Brendan Philbin and brothers Philip and Vincent McGrath, who became known as the Rossport 5 brought this battle to the public's attention when they refused to obey an injunction awarded to Shell entitling it to build where it wanted in Mayo. The men were sent to Cloverhill jail in Dublin for 94 days and outrage grew as sordid details of government interference in the planning system to accommodate Shell came to light.
Here, An Phoblacht's JOANNE CORCORAN talks to Mícheál Ó Seighin about his experiences over the last year and asks where the campaign to prevent Shell's onshore pipeline goes in 2006.
An Phoblacht: If you can just tell us how this all started and how you became involved.
Mícheál Ó Seighin: Well, this all started in April 2000. A friend of mine contacted me to tell me the Department of the Marine were planning to conduct an Environmental Impact Statement (EIS) regarding an onshore pipeline coming to the area and asked me to inform the local fishermen of what was going on so they could have an input. Then there was a notice in the parish newsletter saying gas was coming to the area and we would all be rich.
I notified the fishermen and kept a watch out for what was going on, but no one in the area knew there were machinations happening in the background such as on the 10 September when Statutory Instrument 110 was passed by the government, changing the responsibility of pipelines from the Department of Energy to the Department of the Marine.
There were rumours abounding that a pipeline was coming to the area and would go up the side of a hill. I was teaching Leaving Certificate geography at the time and I remember telling my students that their engineers must know something I didn't, because I'd never heard of an upstream pipeline.
The following May, more rumours went around that Shell had purchased a site of 26 acres and some JCBs came in. There was some tearing down of things, but that was all. There were a few meetings that summer in pubs, someone must have circulated the myth that if the locals were bought a few pints everything would be all right. We had no intimation there was something wrong.
In early October, Minister of State at the Department of Justice Frank Fahey, Taoiseach Bertie Ahern, Maritime Statoil and Enterprise Oil held a well-choreographed press conference where they said Bord Gáis had done a deal with the company to join up with it. There had been no planning permission sought, but a deal had been signed. That was designed to put pressure on the Planning Department.
In late November a local German man told me I should look at the EIS. I'd no interest but I went to have a look at it in the Garda barracks in Belmullet to get him off my back. The first thing I saw was a list of the trace elements, including Mercury, Zinc and Radon, all the heavy metals, that would be used in the construction of the pipe. That had me scared stiff, not to mention the references to Glycon, various acids and the lubrication that would be needed to keep the pipe clean.
At the same time the Council for the West, a Bishops' pressure group was putting pressure on for the project to go ahead. Then a person from the Planning Office told me that there were boxes of information on this just lying unopened in his office. He told me to make sure the locals got something in quick before a decision was made without them.
A few others and myself put something together and got it in before Christmas. It attracted attention in January and the Western People gave us a front page using words I'd used to describe how we were being treated, with "Waffle and Contempt". We said we were horrified that they had no intention to get rid of the mercury elements in the pipe. Mercury is incredibly dangerous for babies in the womb. Shell made no change to their application, even though, upon close inspections of their plans we knew they wouldn't get away with it in any other country in the world.
Mayo County Council asked for more information and the second planning application it received was a bit better. The Department of the Marine came to us for a meeting and we told them that Shell could plan what they liked, but it wouldn't be through our land and they couldn't take our land. Someone from the Department said: "We'll change the law."
The next we knew they had brought in this Power of Compulsory Acquisition law and a document was sent to the farmers.
The state had deemed that an upstream pipeline didn't require planning permission, that the roads to the site, the septic tanks, the thousands of portakabins and all the other paraphernalia that comes with a massive building site didn't need planning permission, and now they were saying they were taking our lands to run this dangerous pipeline through.
How was your struggle being perceived at that point?
Had it not been for Northwest Radio and to a lesser extent the Western People and the Mayo News, we would have been totally isolated. RTÉ had been told not to touch us. Jim Fahey ran a few incredibly nasty reports about the locals in an attempt to discredit us. Eventually we had to stop all cooperation with RTÉ. An Phoblacht gave us excellent coverage from the start.
Did you know from early on where the government stood on the issue?
Well around that time Shell was refused planning permission, after the longest oral hearing the history of the state. As soon as this happened Eamon Ó Cuív, Minister for Community, Rural, and Gaeltacht Affairs, came out and said they had to re-apply. He showed then exactly where the state stood on the issue, and Fine Gael gave Shell support too. They said the pipeline could go nowhere else and it was too late to go looking.
Meanwhile, Bertie Ahern and the Department of the Marine guaranteed full co-operation if Shell applied again, yet An Bord Pleanala denied it was under pressure.
At the same time, Shell applied for an injunction to be taken out on a number of locals who wouldn't let them on their land. The President of the High Court spent four days debating this and eventually gave it to them, but he did express reservations about what he was doing. I wasn't actually named in the injunction but it was so wide-reaching that it covered nearly anyone in the world who objected to Shell in any way shape or form.
They came back onto the land and we stopped them. It was a sad sight to see the local Gardaí jumping to Shell engineers clicking their fingers and running to take local people's names. Eventually Shell picked five names to make an example of and I was included in that list.
Can you tell our readers now about your experience in prison?
I had no doubt that we were going to jail. Some of the lads, with the exception of Vincent believed right until the end that we would get justice. We're from a very equal society; everyone has a farm no matter how small it is. But there is no equality when you take on a big giant like Shell.
We never wanted to go to jail. There was a statement from Fahey in the Dáil where he said: "Of course they're entitled to object, but they can't hold up the project." The Government always knew we were going to jail.
We were treated marvellously in prison. The authorities had been warned that nothing was to happen to us because they didn't want us receiving any publicity, but they didn't need to warn anyone. The prisoners gave us huge support. We seen how much contempt they and the prison officers had for McDowell and his 'justice' system. But we knew we shouldn't have been in prison.
How did you feel about the public support you were receiving?
I couldn't believe the level of support that was there for us. I thought that with the pressures of modern living, basic concern and care had been wiped out from society. But the people were magnificent, all over the country, protesting and fighting for us to be released. The young people in the solidarity camp have been amazing. They came for a weekend in May and have stayed since then. And we have got great support from the trade unions.
Was there any political support available to you?
We received political support from throughout the left. No one in Fianna Fáil, with the exception of Senator Mary White, gave us any support and it was the same for Fine Gael, where only Senator Michael Finucane was on our side. Their party whips were working very well to make sure we were left alone.
Sinn Féin was magnificent from the start — the party's representatives were a pillar to us. And we got great support from the Greens, but there was a split in Labour. There was conflict there, possibly because they are mindful of future coalitions.
The Corrib issue seemed to capture people's imagination. Do you think this was because it is indicative of the direction Ireland is going generally with creeping privatisation and the Irish Ferries issue and so on?
Yes. What we were fighting for suddenly provided a platform for people who had been concerned with issues like that. People are sick of what I call Mary Harney's 'shop around Ireland'. It is not a reality for these people. They can see that the individual is being trodden on.
I count two Irelands — the Ireland that was there on 29 June when we were imprisoned and the Ireland of 1 July when the people started to protest at what was happening. An evolution of opinion taking place and our jailing was the match that lit the tinder.
We went to jail for the safety of our community. We weren't taking on every battle, we just wanted to protect where we lived. But in doing so we highlighted a major question — what authority does the government have to farm out our natural resources or our national industries?
The public started asking all these questions. The government was horrified at the Pandora's Box we had opened. And it was right to be. Our Constitution says the state has the authority to pass out the management of our natural resources. Nowhere does it say it can give them away or sell them off like our government has done.
It also meant that when the Irish Ferries' issue kicked off, people were already wide to what this government was capable of.
Since Corrib, people are asking the question — what kind of Ireland do we want for our children?
What is the current position with the court case?
Shell raised the temporary injunction so we could be left out of jail. The President of the High Court is still deciding if he should punish us for breaking his order in the first place. He may come out and make an announcement or there may be nothing. Shell is still going ahead and they're looking for a permanent injunction now.
That will come to court next spring and the High Court President said he'd look at all the safety issues then. But this case might not be decided until 2010.
Did the recent report from the Centre for Public Inquiry, revealing exactly what Shell and the Government are up to, give your campaign a boost?
It has indeed. The Minister said it would be impossible to find a company that hadn't worked for Shell at some point or other, but the Office for Public Inquiry managed to get somebody very quickly. They got an American company based in Washington. Their report didn't say anything that we hadn't already said, but they said it as 'experts' which means it can't be ignored as easily. They used the same examples we did and that's no coincidence — they are obvious examples.
Take this one — in Carlsbad in New Mexico in 2000, a pipeline exploded in the desert and 12 people were killed. George Bush, the leader of what's been termed the most energy industry friendly nation in the world had to change the safety regulations following that explosion. Well, Bertie Ahern is now the leader of the most 'energy industry friendly' administration in the world. There's a reason why pipelines aren't built near people.
The report also exploded the myth that having a thicker pipeline would prevent the risk of explosion, and it also said that these pipelines are normally at sea so any data the government was coming up with wasn't based on anything because there was no precedent of upstream pipelines onshore.
What now for the campaign?
The only thing left to us is to go through the courts. The international courts are an option and an approach has already been made to Europe. If the courts don't help us, then we go back to jail. There's meant to be some mediation going on, but that doesn't look like it's going to be successful.
Enda Kenny might say we're using going to jail as a threat, but it's not a threat, it's a statement of fact. It's the ultimate thing we can do. But next time round there'll be hundreds of people breaking down the gates of Mountjoy to get in to support us and even more people will be disgusted.
We have been vilified and painted by the establishment as being unreasonable and all the rest of it. Advantica came to do a report and they had been told we were dangerous people. They turned up with bodyguards and armoured police and the first thing they were greeted with was a cup of tea. They weren't amused at the way they'd been led astray.
Ultimately, the public are very important to all this. The state won't succeed if we stand together against Shell, and I think that that's what will win it for us. We know this pipeline is dangerous and we will do everything we can to prevent it being built. When the government realises that, then this will all be over.
An Phoblacht Magazine
AN PHOBLACHT MAGAZINE:
Don't miss your chance to get the second edition of the 2019 magazine, published to coincide with Easter Week
This special edition which focuses on Irish Unity, features articles by Pearse Doherty, Dr Thomas Paul and Martina Anderson.
Pearse sets out the argument for an United Ireland Economy whilst Pat Sheehan makes the case for a universally free all-island health service.
Other articles include, 'Ceist teanga in Éirinn Aontaithe', 'Getting to a new Ireland' and 'Ireland 1918-22: The people's revolution'.