15 December 2005 Edition
Wexford takes up legacy of Mellowes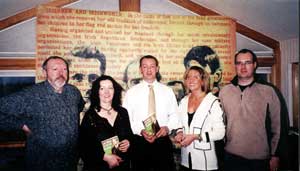 The Liam Mellowes commemorative weekend began on Saturday 10 December with a large attendance for a forum held in the Ashdown Park Hotel in Gorey, chaired by Christina McCauley. The panel included Sinn Féin Councillor John Dwyer, Fianna Fáil Town Councillor, Malcolm Byrne, Historian Ruan O'Donnell and Mick O'Reilly of the ATGWU.
Sinn Féin All-Ireland Co-ordinator Martina Anderson delivered the Daithí Forde Memorial Lecture, The Legacy of Liam Mellowes and the Democratic Programme of the First Dáil and it's relevance to modern Irish Republicanism.
Anderson spoke with passion and conviction about Liam Mellowes' vision for a united Ireland of equals
Speaking about the late Daithí Forde, who was loved and valued by so many people in Wexford, she said that when Daithí went into Wexford Hospital he was left on a trolley without proper medical care. "If he had had the money for private medical care would he have been with us today? We don't know but there are countless others in the same situation because they cannot afford private medical care and are therefore treated as second rate, because their incomes are not as large as those of others. Anderson said that the best way to commemorate Liam Mellowes and Daithí Forde was to forward the republican struggle in which Wexford has played so huge a part.
Ruan O'Donnell spoke eloquently about two books concerning Mellowes, Liam Mellows and The Irish Revolution and Notes from Mountjoy. He said more events such as the commemorative weekend were needed as was more republican history written by republicans.
Malcolm Byrne said there was a lack of debate about political issues. Although he had some issues with Martina Anderson's paper on the Democratic Programme of and its application today, he enjoyed it.
John Dwyer accused the current Dublin Government of paying lip service to the ideals of the Democratic Programme and of airbrushing Liam Mellowes from Irish history. He said Irish people must stand up for what they believe is right and that radical politics was needed to change what is currently wrong with society.
Mick O' Reilly said that a person who loses his memory is said to be sick. A society or movement that loses its memory is also sick. He agreed that Mellowes was airbrushed out of history. He said that with a vote and a union card you could change society and that we need independent trade unions to challenge the status quo.
Sunday's commemoration to Liam Mellowes' grave in Castletown was one of the biggest in recent years. A parade led by a republican colour party and the Ed O'Brien RFB band proceeded through Gorey's main street to be followed up by a march from the Golden Anchor to Liam Mellowes' grave in Castletown where wreaths were laid on behalf of Gorey by Councillor Jimmy Fleming, Stephen McCann and Leo Kenny, on the graves of Mellowes and Denis and Michael Kavanagh. Jim McDonagh and Noreen Sheridan laid wreaths on behalf of Ferns and Enniscorthy respectively and Joss Kielty on behalf of the Republican Movement.
Séamie Davitt gave a moving rendition of the Last Post and Chorus.
The organisers wish to express their thanks to weekend's sponsors An Glór Gafa and also to the proprietors of the Anchor for the provision of sandwiches after the commemoration.